Governor – General, His Excellency the Most Hon. Sir Patrick Allen at the swearing-in of the seven new Judges to the High Court, on Tuesday (January 5, 2015), urged them to maintain their usually high standards of transparency, integrity and accountability within the Judiciary and to the people of Jamaica.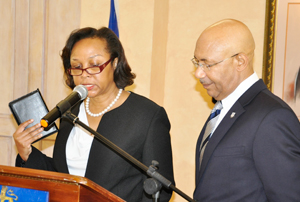 The Governor-General also encouraged them to be motivated by the awesome responsibility given them to help preserve the fabric of law and order to safeguard Jamaica's democracy.
"Your appointment is not a signal of arrival or victory but rather a stimulant to intensify your devotion to the continuous building of our judicial system," Sir Patrick Allen reminded the Judges. 
Sworn in as Puisne Judges were: Mrs. Lorna Shelly-Williams, Mr. Chester Stamp, and Mrs.Vinette Graham Allen; Mrs Sonia Bertram Linton and Mr. Dale Palmer will act as Puisne Judges. Miss Rosemarie Harris and Miss Carolyn Tie will serve as Masters-In-Chambers.
Sir Patrick Allen concluded his remarks by emphasizing to the Judges the importance of believing in themselves in the line of duty.
Chief Justice Hon. Zaila McCalla in congratulating the judges said their appointments resulted from them being worthy.  She urged them to continue to give of their best for the citizens of the country as well as to collaboratively work with others in the justice system to bring about improvement.
Replying on behalf of the judges, Mrs. Shelly-Williams said that the judges were aware of the awesome responsibilities and expectations that they had been entrusted and the high standards set by their predecessors, "We hope to live up to these expectations and maintain these standards," he assured.
Check out The Office of the Governor- General (Jamaica) on Facebook for photographic highlights of this event at the link below
https://www.facebook.com/media/set/?set=a.756996024445042.1073741899.165094856968498&type=3