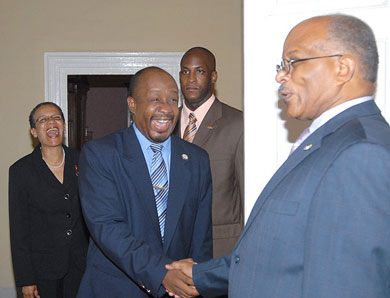 Governor-General, His Excellency the Most Hon. Professor Sir Kenneth Hall, has welcomed plans by the Press Association of Jamaica (PAJ), to launch the Jamaica Press Institute.
Plans for the institute were outlined by PAJ President, Byron Buckley, when he visited King's House on December 1.
The Governor-General said it is fitting that the PAJ should launch a training and research institute for members, especially at a time of significant changes in the media landscape, and the emergence of new media technologies that have transformed communication.
He said that strategic linkages with other organisations are also important to the viability of the institute.
November 30 to December 6, is being celebrated as Journalism Week, under the theme: 'Fanning the Flames of Democracy'.
The PAJ President was accompanied by First Vice-President, Fae Ellington, and Second Vice-President, Vernon Davidson.