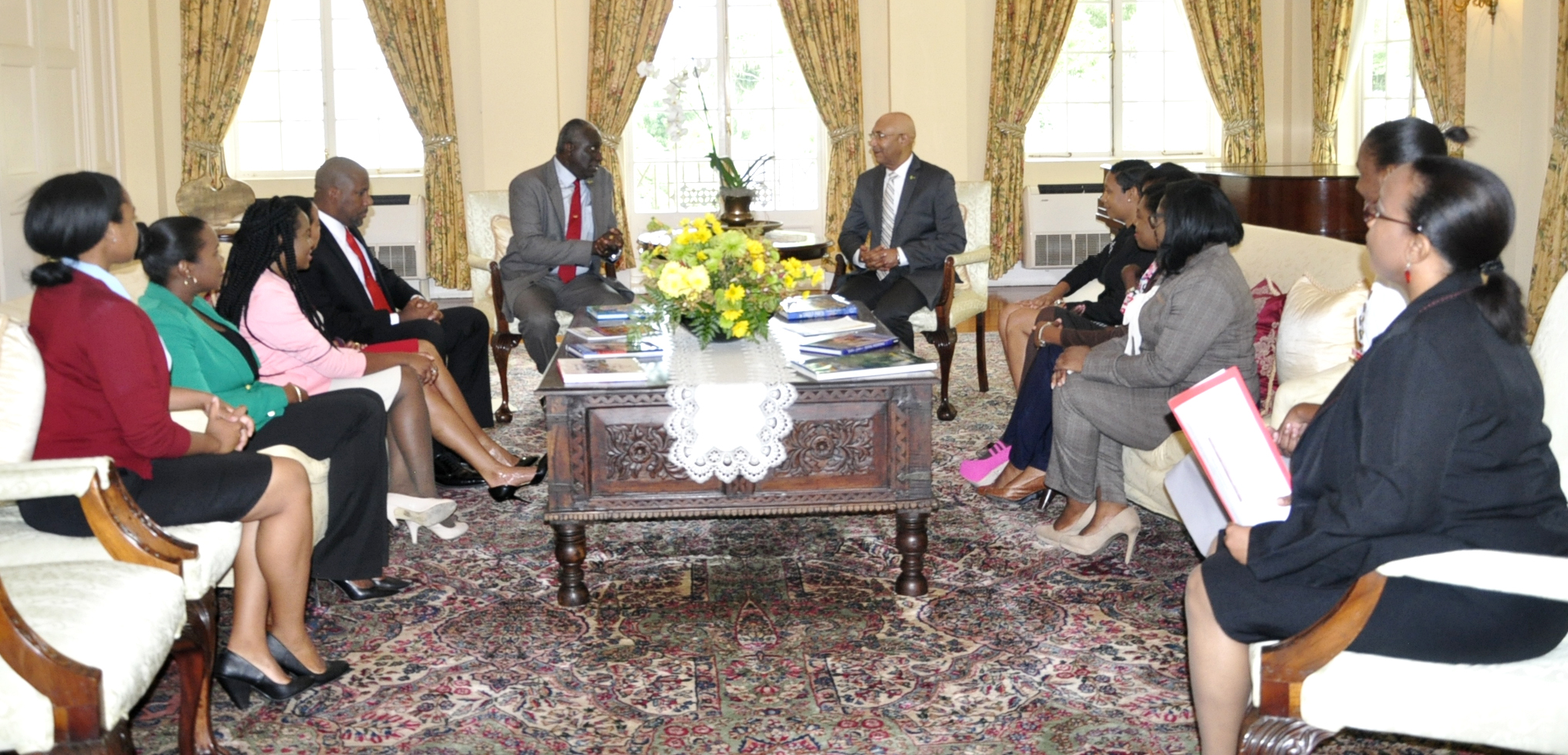 The "I Believe Initiative's (IBI) – Vision of Love" video competition culminates with unexpected prizes and a courtesy call with Governor- General, His Excellency the Most Honourable Sir Patrick Allen, on Friday (March 11, 2016).
With only the winner, Tishauna Mullings, expected to be awarded $50,000 to advance her IBI project, the remaining seven finalists were astonished when it was revealed they too will be presented with second, third and participatory prizes.
National Coordinator, Major (Ret'd) Effiom Whyte discloses that, "During the review of submitted video, it was unanimous among the selection panel that the content and quality of the shortlisted entries were of the quality deserving reward."
Finalists, Shanese Watson was adjudged second place winner and awarded $30,000 for her entry, Young Scholars Inc., Victoria Melhado Daley, came in third and was presented $20,000 for her Be Inspired project while Cordell Williams, Michelle Thomas, Mahailla Ricketts, Anneka Salmon Crossley and Leneka Rhoden were each presented with participatory prizes of $10,000 each.
During the courtesy call that followed the presentation which took place at King's House, Sir Patrick Allen stated that the entries aptly portrayed the indefatigable work of the ambassadors and encouraged that they continue using their God-given talents to fix what is wrong in their communities as they positively impact others around them.
"While each of you strive to get to the place where you want to be, as you get greater light, ensure you share that light with others," His Excellency advised. He told the ambassadors not to be weary in promulgating values and attitudes that are integral Jamaica attaining Vision 2030.
Tishauna Mullings in response to the courtesies highlighted that the friendly rivalry which was evident during the "IBI's Vision of Love" video competition period, facilitated a greater level of synergy among ambassadors.
While asserting that the IBI instills hope and motivate young people to believe in what they can accomplish, Sir Patrick Allen expressed gratitude to the sponsors, Scotia Bank, Jamaica Broilers and (Jamaica National), for their support in inspiring the ingenuity of the young people
About the "IBI's Vision of Love"
The "IBI's Vision of Love" video competition is a social media based project, launched on Facebook on January 26, 2016. It invited IBI Ambassadors to upload a video presentation of project(s) undertaken with a sense of care and in a spirit of loving kindness for community and National Development. The Ambassadors were also required to state why they remain patriotic and motivated citizens of Jamaica. The entries closed with the announcement of the winner on Valentine's Day.