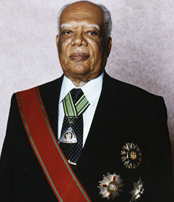 Governor-General, His Excellency The Most Honourable Sir Patrick Allen is expressing sadness, on behalf of Lady Allen and the entire King's House staff, at the passing of former Governor-General The Most Honourable Sir Howard Cooke who died on Friday July 11, 2014, at the age of 98.  He extends condolences to his widow, The Most Honourable Lady Cooke, his three children – the Honourable Justice Howard Fitz-Arthur Cooke (Retired Judge of the Court of Appeal), Richard Washington McDermott Cooke (Hotelier) and Miss Audrey Faith Cooke (retired Guidance Counsellor) – and the other members of Sir Howard's family.
According to Sir Patrick Allen, Jamaica has lost a true son who devoted his life to serving its people and to working steadfastly for the growth and development of the land of his birth. Sir Patrick noted that the nation owed this statesman a debt of gratitude for being an exemplary servant leader, having dedicated approximately seventy years of his life to giving altruistic service as an educator, trade unionist, insurance executive, politician, Government Minister, Senator, Elder and Lay Pastor in his church. "He truly understood and demonstrated what was meant by a life of service," remarked Sir Patrick.
Sir Howard, who became Jamaica's fourth Governor-General in August 1991, demitted office in February 2006. It was during his tenure that the current Governor-General's Achievement Awards programme had its genesis. Successive Heads of State, over the years, have sought to enhance and expand the programme, which, in February of this year, was merged with the I Believe Initiative under the new name "Governor-General's Programme For Excellence".
"I am grateful to Sir Howard for the solid foundation which was laid for this programme which is now in its twenty-third year. It continues to recognize everyday Jamaicans for, among other things, their meaningful contribution to the nation at the community level," stated Sir Patrick.
Sir Howard gave leadership with quiet dignity to the Office during times of turbulence. His peaceful demeanor as well as his willingness to sit with people and listen to their concerns, and to work with them, assisted in finding solutions for many of the ills that plagued Jamaica.
He served as patron for the National Leadership Prayer Breakfast and the National Prayer Vigil, programmes which are quite vibrant under the present Governor-General. It was also under his tenure that the King's House Restoration Committee, which was later renamed the King's House Foundation, came into existence. This Foundation was established to raise funds for the upkeep of the buildings and property of King's House.
Sir Howard's legacy as a kind, empathetic, understanding father and friend will forever be etched in the minds of all those who interacted with him during his 14 years of service. He walked with kings, but never lost the common touch, even after receiving two Knighthoods from Her Majesty The Queen, namely the Knight Grand Cross of the Most Distinguished Order Of St Michael and St George (GCMG) and Knight Grand Cross of the Royal Victorian Order (GCVO).
As the elder statesman of the Governors-General and Presidents of the region, he organized with his counterparts frequent meetings where they brainstormed and subsequently agreed on a common basis of operation. He assisted other member countries of CARICOM to bring the level of the office of the Head of State to that which is comparable throughout the region.
"As the nation mourns this loss, let us perpetuate the memory of Sir Howard by recognizing his life of service and leadership as we continue the nation-building process," urged The Governor-General. "He now belongs to the ages and may his life and legacy be emulated by all Jamaicans."
Contact: The Public Relations Unit
Office Of The Governor-General & Staff
King's House
Tel: 927-6424/5 Ext. 2073
E-mail: mormsby@kingshouse.gov.jm
July 11, 2014