Governor-General, His Excellency the Most Hon. Sir Patrick Allen, has added to the call for Jamaicans to unite and pool their talents and resources for the country's welfare.
He made the appeal in a message read by Custos of St. James, Hon. Ewen Corrodus at the National Heritage Week thanksgiving service held yesterday (October 10) at the New Testament Church of God in Montego Bay.
"We are getting closer to our 50th year of becoming a sovereign independent state. It is important that as Jamaicans at home and in the Diaspora, we consolidate our efforts, our talents and our resources, so that together we can achieve the dreams and visions of our heroes," the Governor-General stated.
He noted that the journey of nationhood has many challenges, but despite the setbacks and events that sometimes cause despair, "we must believe in our people, our land and our heritage and, encouraged by the knowledge of the strength and courage of our heroes, ensure that Jamaica becomes a peaceful, productive and prosperous nation."
"I encourage all Jamaicans to get into action now for the sake of our nation. Believe in yourselves and in each other so that together we can make Jamaica a habitable place," His Excellency urged.
Minister of Youth, Sports and Culture, Hon. Olivia Grange, Minister Grange, in her contribution, said that Jamaicans are "products of a mighty heritage" and a legacy of struggle for freedom and justice.
"Our ancestors made the ultimate sacrifice so we can be here today in the house of God singing songs of thanksgiving. Through them, we are able to see our children grow to choose their own form of livelihood and make decisions for their own present and future," she said.
She encouraged Jamaicans to seek to make a difference by extending a hand to the less fortunate. "We can adopt a school, a child, a hospital ward, a street person, a neighbour's child. We can engage conversation with a youth on the corner, rather than pass by on the other side. We can extend our hand rather than our voices in criticism. Let us ask God to teach us true respect for all and to help us to stand up for justice, brotherhood and peace and play our part in advancing the welfare of Jamaica and the whole human race," Minister Grange urged.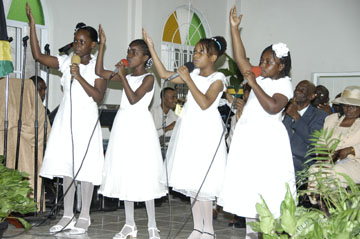 Pastor of the Church of God Jamaica, Rev. Milton Davidson, who delivered the sermon, said he believes in Jamaica.
"I believe in Jamaica and I don't believe that we have to reach a state of desolation. We must admit that we need guidance, we need God. We have what it takes to make it. If half the minds that are used in ingenious ways to practice evil are turned to correct and to make good, we would be ahead in the world today," Rev. Davidson asserted.
Prime Minister, the Hon. Bruce Golding, read the first lesson, which came from Psalm 34: 1- 8.
Others in attendance were Minister of Water and Housing and Member of Parliament for North West St. James, Hon. Dr. Horace Chang; and Leader of Opposition Business in the House of Representatives, Derrick Kellier, who represented the Leader of the Opposition, the Most Hon. Portia Simpson Miller.
National Heritage Week is being observed from October 11 to 15 under the theme: 'I believe in Jamaica . our people, our land, our heritage'.