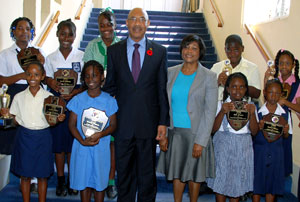 KINGSTON (JIS) – Governor-General, His Excellency the Most Hon. Sir Patrick Allen, is urging Jamaicans to ensure that the country's rich culture and heritage remains alive and relevant by inculcating what is best about the country in the minds of the young.
"If we can reach the minds of our children, if we can help to mold these young minds before other influences crowd out what we have to offer, then our future is secured," he stated.
Sir Patrick was delivering the keynote address at the inaugural Jamaica Information Service (JIS) Heritage Essay Competition Awards Ceremony on November 8 at King's House.
A total of 10 students at the primary school level were recognised for their outstanding performance in the competition.
The Governor-General congratulated the awardees and lauded the JIS for its role as a trailblazer in transmitting the achievements of Jamaicans to the world and for keeping the country's heritage and culture alive and relevant.
He said the JIS continues to play a very important role, not just in passing on government news and information, but also in reporting and preserving indigenous cultural values and highlighting what is best about Jamaicans.
"The JIS is doing a good job in preserving our history and culture, ensuring that future generations know their past, and through that learning, they are empowered in their present circumstance," he noted.
The Governor-General further noted that the essay competition is a commendable endeavour, which fits in with his 'I Believe Initiative'. He said it also promotes awareness of Jamaica's heritage, and gives young people the chance to research and to become more aware of the achievements of their ancestors.
"I hope…this essay competition…has left you fully inspired to learn more about how we came to be such a unique and distinguished people in the Caribbean and the world, and you will endeavour to learn more about our customs, our origins, our mores," Sir Patrick stated. "Then I hope you will fall in love all over with Jamaica and you will be proud to say wherever you go that 'I am a born Jamaican'," he added.
Nine-year old St. Hugh's Preparatory student, Kathryn Gooden, took the top stop, walking away with a JIS trophy, weekend for four at Franklyn D. Resort, Sangster's Book Store voucher, an MP4 Player and $10,000.
St. Hugh's also placed second, with 10 year-old Matthew Irons, who was the only male in the top 10, receiving $6,000, a digital camera, a flash drive, Sangster's Book Store voucher and a JIS trophy.
Rounding out the top three was 11 year-old, Tajrakae Bryson from Corinaldi Avenue Primary in St. James, who received a JIS trophy, a flash drive, a printer, book voucher and $4,000.
The JIS received more than 150 entries for the heritage essay competition, which was open to primary school students nine to 12 years old. Entrants were asked to write a 300 to 350 word essay on the topic: Who is your favourite National Hero or Heroine? Explain. The competition is expected to become an annual event.
By Athaliah Reynolds, JIS Reporter