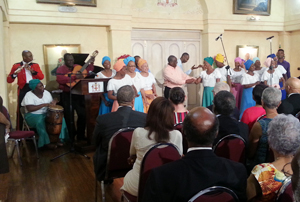 Their Excellencies annual Christmas Concert, "Joy to the World," held at King's House on Sunday (December 20, 2015) was a delectable serving of festive music with a palatable blend of folk culture. 
The event which had been on a two-year hiatus returned  with a three-choir performance under the outstanding directorship of Bandmaster WO1 Albert S. Hird of the Jamaica Military Band.
The National Chorale of Jamaica which opened the evening's performances with engaging Community Carols seemed to have taken queue from His Excellency, Sir Patrick Allen who was jovial, warm and inviting in his Welcome.
Broadcaster and Actress Ms.  Leonie Forbes was a hit with the audience as she brought many persons 'down memory lane' through her telling of Jamaican Traditional Christmas Tales and Duppy Stories.  
All 22 items presented at the event were well received by the audience of Jamaican luminaries to include Cabinet Ministers Rev. Hon. Ronald Thwaites, Hon. Peter Phillips and, Mrs. Phillips, Chief Justice Hon. Zalia McCalla and Mr. McCalla, Members of the Privy Council and  Chief of Defence Staff and Spouse.
Her Excellency Lady Allen brought the evening to a crescendo in her rousing vote of thanks to the sponsors, performers and persons who made the event the splendor it was.