His Excellency the Most Honourable Sir Patrick Allen urged five newly appointed judges to persevere in their efforts to dispense justice fairly and in a timely manner, despite trying circumstances.  He told them that it was in those challenging times that their "true mettle" would shine and they would need to remain resolute in the faithful execution of their duties.
The Governor-General was speaking at this morning's Swearing-In Ceremony for five female judges appointed to act during the Hillary Term.  Chief Justice the Hon. Mrs. Justice Zaila McCalla, Court of Appeal President the Hon. Mr. Justice Seymour Panton as well as other members of the legal fraternity and family members were among those in attendance at the function which was held at King's
House.
The Hon. Mrs. Justice Carol Beswick and the Hon. Mrs. Justice Ingrid Mangatal will act as Judges of Appeal from April 28 to July 31.  Both Mrs. Audre Lindo and Mrs. Marcia Dunbar Green were appointed to act as Puisne Judges from April 23 "until further orders".  This was the latter's first acting appointment at the Supreme Court level.  The fifth judge to be sworn-in was Mrs. Rosemarie Harris who will be acting as Master-in-Chambers April 23-July 31.
Before reading the Instruments of Appointment, the Governor-General reminded the judges that "… ordinary Jamaicans may not grasp fully the nuances of the law but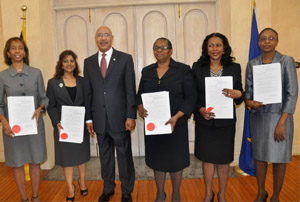 their common understanding upon which they give credence to your performance is that justice, even if it is not done, must appear to be done."  He concluded by saying that "Jamaica needs your earnest contribution so that justice will become everybody's reality."
In congratulating the judges on their new appointment, the Court of Appeal President asked them to constantly bear in mind the oaths they had just taken,  and cautioned them against giving interviews to the media about cases that were pending. The Chief Justice' s words of advice to the new appointees were that 1 ) they should not be offended by criticisms of the justice system but should instead work to ensure that they are unfounded, and 2) they strive to should educate the public about the system.
Replying on behalf of her colleagues, the Hon. Mrs. Justice Beswick stated that they would do "their absolute best" in their bid to deliver justice to all, while remaining humble at all times.