King's House was abuzz with excitement on Thursday October 1 as the arrival of Her Royal Highness The Princess Royal drew near.  Shortly after 2:00 p.m. Their Excellencies the Most Hon. Sir Patrick Allen, Governor-General and the Most Hon. Lady Allen met Her Royal Highness at the Porte Cochere after which she was introduced to Governor-General's Secretary Mrs. Dionne Tracy Daniel and senior management staff. Greetings aside, Their Excellencies and The Princess Royal proceeded to the Drawing Room for a Courtesy Call.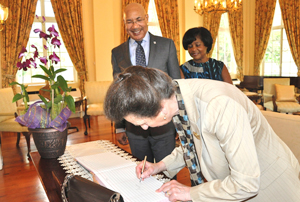 Highlight of the visit to King's House was the presentation of certificates and the Duke of Edinburgh's Gold Award Badges to six young Jamaicans who successfully completed of a life skill under the internationally acclaimed programme. The presentation exercise was shared by The Princess Royal and Sir Patrick Allen who presented the certificates and badges respectively. 
Guest speaker at the awards function Reverend the Hon. Ronald Thwaites, Minister of Education, told recipients that the price and prize of their award require that they share their experiences with other young people.  He said that as young people respond strongest to their peers, the awardees should become models and motivators for a positive lifestyle.  "By your example many of your peers can learn how to overcome challenges and build strong characters that can withstand the many distractions and antisocial behaviours," he stated. 
The Education Minister said further that weak social capital is a major cramp to educational outcomes in Jamaica and praised the Duke of Edinburgh Award for the emphasis that it places on self-acceptance, generosity of spirit and service to others as an example of a pattern of health activities that he would like to see extend throughout the entire society.   
The six Gold Awardees are Kimberlee Davis, Danique Davis, Javier Baily, Keegan Prince, Jovan Eldermire and Janick Semaj. They were personally commended by His Excellency and The Princess Royal following the ceremony.    
The Duke of Edinburgh's International Award is the world leading achievement awards programme which exposes participants to practical experiences and life skills.  Participation is open to young people age 14- 24.