The colourful kaleidoscopic collage of sweeping lawns of green grass, blooming and budding flowers and plants, trees adorning the majestic King's House estate in St. Andrew, gives credence to the view that the property is blessed with an abundance of breathtaking botanical beauty.
The eye-catching picturesque flora greeting visitors at the front of the approximately 187-acre property, accentuates the stately King's House mansion, official office and home of Jamaica's Head of State and local representative of the Queen of England, the Governor-General.
There is, however, more to King's House's botanical complement and offerings than meets the eye. Persons may not be aware of the farm and extended garden at the rear of the building; the pride and joy of current Governor-General, His Excellency, the Most Hon. Sir Patrick Allen, and his wife, Lady Allen.
Her Excellency, who readily admits to being a garden enthusiast and "green thumb", beams with pride as she speaks of the wide variety of flowers, plants and crops on the property, including; callaloo, cucumber, a range of scotch bonnet and sweet peppers, okra, pak choi, pumpkin, radish, spinach, squash, turnip, zucchini, banana, cantaloupe, mango, plantain and ackee. Among the flowers and plants are roses, orchids, sunflowers and zinnias.
"I'm a lover (of plants). I grew up with a father who farmed.he loved farming, (and) my mother loved flowers," she admits.
"As I grew up, I started appreciating and having a (deeper) love for plants. (Although) I never had any formal training in horticulture, as a young lady I had my own garden where I would plant corn or peas or anything else," she explains.
Speaking with JIS News, Lady Allen recalls as a teacher taking home left over cheese tins, from the United States' Food Aid programme, each evening and filling them up with soil and planting things in them.
"I always had flowers around me," she recounts.
This appreciation for nature was easily transplanted at King's House, and since their arrival early last year the crop yield has been fairly good.
The harvest is shared with the staff, as well as institutions such as the Bustamante Hospital for Children where baskets of fruits are provided for children admitted to the institution. Additionally, she says, produce are displayed at the Jamaica Agricultural Society's (JAS) Denbigh Agricultural and Industrial Show in Clarendon.
Lady Allen has a deep passion and love for horticulture which, she points out, has also been her focus as, while there was a fair amount of "greenery" on the property, there weren't enough flowering plants.
She says she visited England and the United States, bought seeds and planted them and was quite pleased with the results.
"While I have a general love for flowers and plants, I have a special love for roses, zinnias and orchids," she states.
Lady Allen has had support from organizations and individuals who have contributed to the growth of the gardens and farm, and expresses gratitude to them , including: the King's House ground staff; the Consular Corps; JAS; Rural Agricultural Development Authority (RADA); and Justices of the Peace from St. Ann.
She describes the ground staff as "hardworking folks", dedicated to their work.
"They feel very proud of what they are doing. Even while we were preparing for the Independence (activities), many of them stayed over late hours each day making sure that the grounds were looking good. We are very pleased and proud of the workers that we have,' she states
Lady Allen says the Consular Corps was instrumental in establishing the tea garden, while the St. Ann Justices of the Peace contributed some 19 hanging plants that ring the ballroom.
"Many persons have come on board. (and) much of the work (that) we have done here, has not cost the government any money," she points out.
However, one entity standing out is fertilizer manufacturer, Newport-Fersan (Jamaica) Limited (NFJ), which operates from Wherry Wharf, Newport East, Kingston.
The company, which originated in the Dominican Republic, has undertaken a special fertilizer programme for King's House. This entails, among other things, the provision of a specially formulated regimen of fertilizer unique to King's House's topography, as a gift.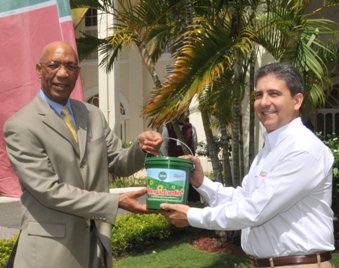 The gesture resulted from discussions between officials of King's House and Newport-Fersan, following a special function in March for the 2009 Governor-General National Youth Award of Excellence recipient, farmer Nicholas Powell. It was hosted by the firm and Their Excellencies were guests. Mr. Powell's farm was selected as the first Fersan-sponsored National Model Farm.
Representatives of NFJ, led by Administrative Manager, Dennis Valdez, thereafter, visited King's House, at Their Excellencies' invitation, and after a brief tour of the gardens and farm concluded that, as a national heritage site, it was imperative to preserve the property for as long as possible. To this end they took soil samples for analysis to determine the level of assistance which could be extended. This resulted in the development of a special fertilizer regimen and the attendant fertilization programme.
"King's House is one of the most representative landmarks in Jamaica. The property, which we believe to be as close as to a paradise, of course, got the attention and piqued the interest of NFJ in providing to its land, a fertilization programme with the sincere hope that.Sir Patrick Allen, Lady Allen, and everyone at King's House, will soon enjoy, better, tastier, and prettier of what mother nature can do, with the power of Fersan products," Mr. Valdez says.
"Hence, NFJ carried out several soil analyses.to determine (the) nutrient status so that, subsequently, appropriate recommendations could be made for optimal use of its fertilizers and nutritional programmes, specifically designed for lawns, ornamentals, fruit trees, and trees in general," he tells JIS News.
Consequently, NFJ handed over of a 20-foot container with some four brand variations of fertilizer applications, which were presented recently during a brief ceremony at King's House.
They included: Megalawn for the lawns; Megagarden for the ornamentals; Megafruit for the fruit trees; and Tiger for a number of other plants.
In all, he says a total of four containers of fertilizer are expected in over the next year, indicating that a portion of these will be used for other projects similar to that at King's House', which are being pursued.
The Administrative Manager explains that NFJ endeavours to maintain strong links with various stakeholders in the agricultural sector, islandwide, by staging seminars and field demonstrations in collaboration with organizations such as the JAS, RADA and the Scientific Research Institute (SIRI). These partnerships, he points out, are aimed at ensuring that NFJ) remains aware of developments in the agricultural sector, and is able to respond to the needs of the farming community.
In this regard he says said NFJ's assistance to King's House is consistent with the firm's broader focus on enhancing community farming. He informs that NFJ, routinely, facilitates leaf and soil analyses to determine the status of nutrients, which informs them on the best fertilizer formulation that can be provided to assist in maximizing crop yields.
Lady Allen says she, Sir Patrick and the entire King's House staff are greatly appreciative of NFJ's efforts to maintain and sustain the beauty of King's House, and is grateful to them for taking up their request to visit King's House to see what is being done.
"We have used the fertilizer and we are pleased with the outcome. My hope is that, (in the long run) we would have enough food supply here, not necessarily for the market as such, but for infirmaries, hospitals, and places of safety (for) whom, we know (at times), it's a strain on the government to provide food on a daily basis," she adds.
She says that, additionally, she would love to have 3-4 acres of the land being used to plant flowers, "so that, each time we have a function, we do not have to.purchase floral arrangements".
Describing the King's House as a "beautiful property", Lady Allen points to a number of features which could be added to enhance the ambiance. These include gazebos; a theme park; ornamental fish ponds with a boardwalk; and aviaries.
"I would love to see King's house being opened up to people,.coming in to visit, to tour and, after they are shown around the property, they should be able to sit and enjoy the salubrious ambience of the environment, because this is the people's house," Lady Allen suggests.