"I address you now as young men who are emerging "Men of Might", men who have matured intellectually, physically, emotionally and spiritually.  Today, you, young men, have enabled Cornwall College to succeed in its Mission!   And I say congrats on your achievement."  This words were uttered by The Governor-General in his address to the 2014 Graduating Class of Cornwall College on Sunday July 6 at the Montego Bay Convention Centre.
Sir Patrick Allen told the graduands that they have been given life-changing tools through which they can empower themselves to make a difference in the world. He expressed his confidence in their ability to do so, noting that he was seeing "smart students who knew they had to live by the motto: 'Learn or Leave' ".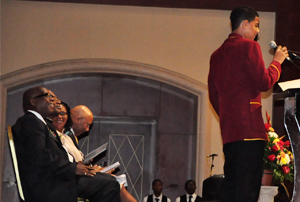 "In today's world you will be tempted by those who believe that nothing is wrong unless you get caught doing it. They want rapid success at any cost and do not respect the boundaries of truth and honesty, which is why so many youth are languishing in jail, or even worse, are victims of murder.  'Men of Might', it takes courage to hold on to your values. Be a worthy example of the good lessons instilled in you at Cornwall College", urg  ed The Governor-General.
In acknowledging the challenging times ahead, His Excellency encouraged the  students not to fall prey to unlawful activities because of their circumstances: "Anything that comes too easily, is not good'. I implore you to always bear this in mind. There is no free ride; nor is there any easy money in these difficult economic
times.  Work effectively, so that you may develop to your fullest potential", he said.
The Governor-General further explained that this could be achieved if each person were to hold on to the values they learned throughout their tenure at the school. These "all-important tools for success" included integrity, respect for self and for others, good neighbourliness and service to God, community and nation.
Sir Patrick Allen called on the youngsters to believe with him that "There is nothing wrong with Jamaica that cannot be fixed by what is right with Jamaica".
"Go light your world and may God be with you," concluded The Governor-General.