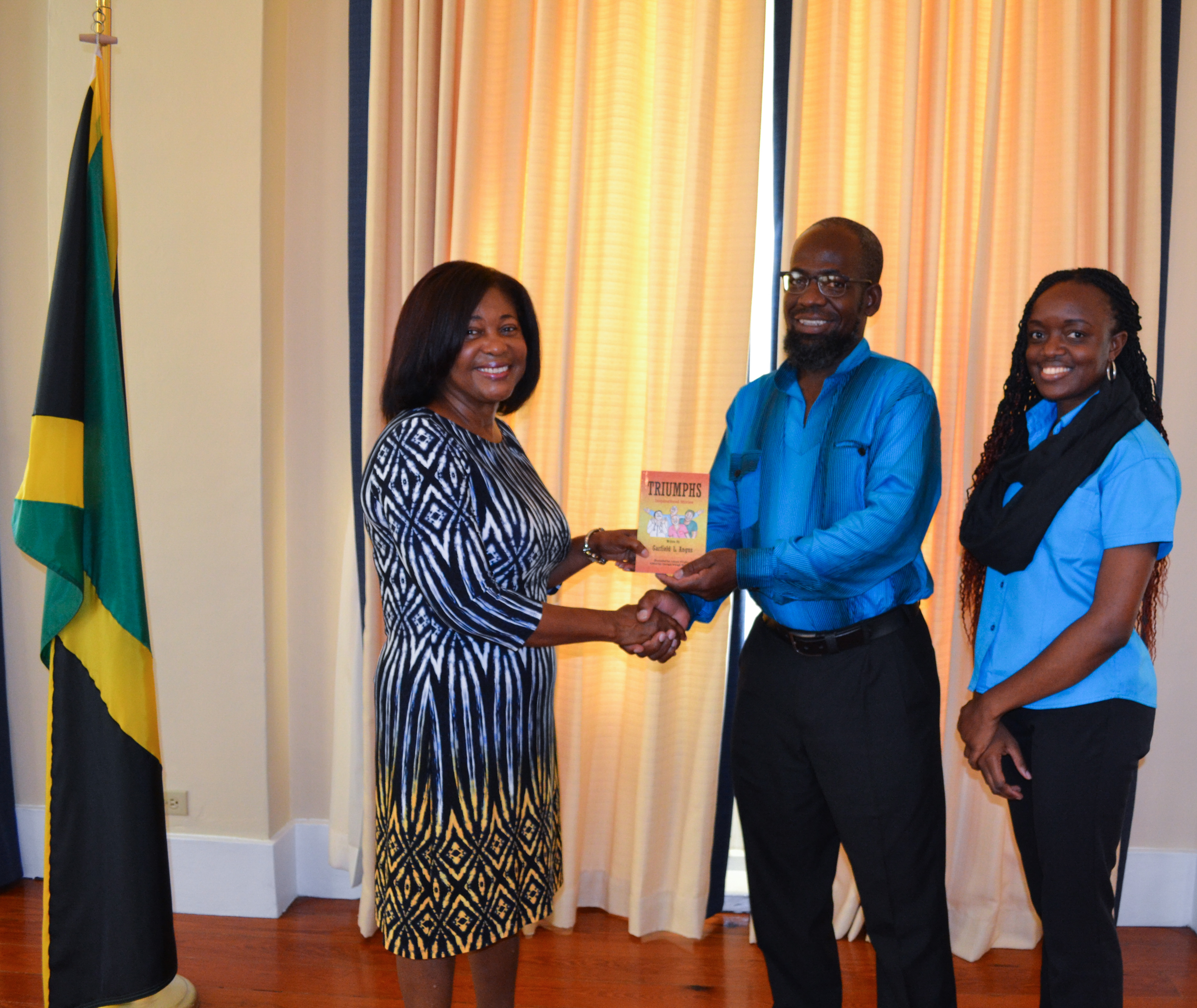 A call has been made for more books to be written on Jamaican and Caribbean nationals who have beaten odd situations so that struggling youth can be inspired for greatness.
The request was made on Friday (December 15), by wife of the Governor-General, Her Excellency the Most Honourable Lady Allen, while meeting with author and journalist, Garfield Angus, during a book presentation by the author at King's House, in St. Andrew.
Lady Allen, while commending Mr. Angus for publishing the novel Triumphs, a tale of persons who fought and overcame misfortunes, with local settings, and depicted with the Jamaican dialect, said hope exists for many families and individuals who are basseted by anguish, and through the sharing of victorious experiences, people can uplift themselves.
She also shared her own experience when she encountered hardship while studying in the United States (US), in the mid 1990's, and recounted that it was by listening to other persons' own testimonies of disappointments and success, that she realized that her circumstances were not as horrendous as it appeared.
Lady Allen in highlighting the positive impact of her sharing encouraging stories to students at book and reading fairs, said she was thankful and pleased to have a publication that is about Jamaicans rising from dispossession to success.
While commending the author who is also a Senior Reporter at the Jamaica Information Service (JIS) for sharing his own story, on the way he was able to make a comeback, after dropping out of school, she encouraged him to continue writing about issues that are geared towards changing lives.
Mr. Angus told Lady Allen that he was moved to present her with the book, after observing her work with school children, and persons who reside in deprived communities. He encouraged her to share with the public the many positive outcomes that she has spearheaded with persons who are imprisoned.
Triumphs is Angus' first book, chronicling tales of persons fighting and overcoming adversities. It is available at major bookstores, and other outlets. He was accompanied by Co-Editor of the book Christine Ade-Gold.