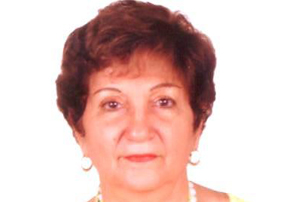 The Hon. Sophia Azan, Custos Rotulorum for the Parish of St. Catherine
Meeting the Most Hon. Sir Howard Cooke for the first time at Kings House, and not knowing what the meeting was all about, I was very nervous. At his welcome, however, I was relieved of my nervousness and was made to be very comfortable. He then said, "You are a beautiful woman, and I am happy that they have chosen a godly one."
Having congratulated me on being the first lady selected as Custos of the parish of St. Catherine, he prayed for me, and I in turn prayed for him.
At my installation on May 15, 2003, Sir Howard – I believe – was impressed with my speech. Pronouncing my name more like "Sa-fi're", he remarked that I was "Little bit but tallawah." With his able and meticulous conduct of the event, his insertion of such cultural affirmation, and his powerful charge to me, my installation became a hallmark launch for my tenure as Custos.
Sir Howard was positively accommodating. I found him to be a person one could sit with and feel free to discuss anything. He was well learned – knowledgeable in any field of discussion. His meetings with Custodes were friendly, informative and inspiring so that one would leave very satisfied to have participated. He was truly a man of humour, hence one would also feel entertained. In all, he displayed the principles of Christianity.
I attended an event of the Conference of Heads of Governments of the Caribbean Community in Montego Bay (2003) at which Sir Howard sought to have me sit with him at the serving of refreshments. It was delightful to see Sir Howard eating away at the lovely 'jerk pork', seemingly a favourite dish for him.
He was also a very caring person. On learning that I was ill, he called, enquired of my well-being, expressed sympathy and to extend wishes for my restored health.
The Most Hon. Sir Howard Cooke, man of the Jamaican culture, man of humour and good relationships, man of leadership and enlightenment, man of principle and faith, I deem to be a great son of Jamaica –  for our time. Departing, may his soul rest in total peace.
Sophia Azan
Custos, St. Catherine
The Hon. Marcia Bennett, Custos Rotulorum for the Parish of St. Thomas:
When I reflect on Sir Howard Cooke, I think of his generosity of spirit, his thoughtfulness and compassionate character. Jamaica has lost a great Leader and beloved son.
At heart he was truly a teacher – constantly motivating others and he gave selflessly in a desire to uplift and empower others.
Sir Howard believed in the strength of the Jamaican people and recognized the potential for greatness in all of us."We are a great people", he would say frequently. He established the Governor General Achievement Awards for the recognition of many unsung heroes of Jamaica, who work to build their communities in every walk of life. He celebrated the capacity of the ordinary Jamaican to give and to make a difference in the life of others.
Sir Howard will be remembered as a servant leader who left his indelible mark in the field of Education, Agriculture, and Government and for his unifying role as Head of State. We thank Lady Cooke and his family for sharing him with us and will keep them in our prayers.
Marcia Bennett
Custos, St. Thomas