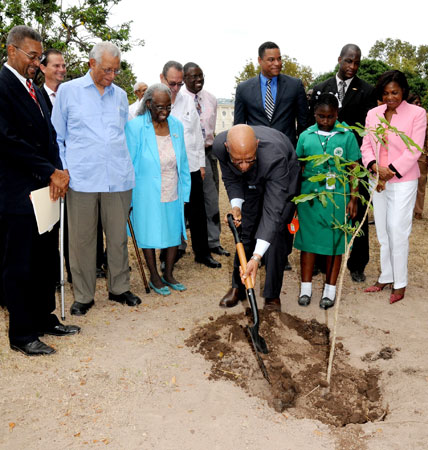 The National Tree Growing Programme, which aims to plant some 130,000 hectares of lands, was launched today (April 22) by Governor-General, His Excellency the Most Hon. Dr. Patrick Allen.
Under the programme, which is being implemented by the Jamaica Tree Growers Association, 70,000 hectares of forests will be rehabilitated, while another 60,000 hectares of idle or underutilised agricultural lands will be planted with hardwood or fruit trees for commercial use and domestic consumption.
Dr. Allen, in his remarks at the launch held at King's House, lauded the programme, noting that it should be used to encourage Jamaicans to plant trees in order to reduce deforestation, soil erosion and to promote the creation of a balanced agro-forestry system.
"Reforestation also restores the natural habitat of birds and is a source of food for these and other animals," he pointed out.
Dr. Allen also commended the move to encourage the planting of trees for environmental and economic benefits. "The multifaceted approach, which you are adopting, in recognition of the potential ecological and economic benefits to Jamaica, comes at a time of economic uncertainty and could help the country develop self-sufficiency in food production. This would not only reduce our dependence of imports but also ensure that we eat what we grow and that is, food that will add proper nutrients to the body and prevent illnesses that are costly to treat," Dr. Allen stated.
"I welcome this tree growing project and recommend that you involve the young people at every level. They need to develop an appreciation for the environment from an early age. In this way, we are instilling some of the core values of the society where nature is respected and regarded as an expression of the glory of God," he added.
In his remarks, President of the Jamaica Tree Growers Association, Dermot Meany, stated that the programme was necessary as the native Jamaican Mahogany is almost extinct, having been overly exploited from colonial times to the present.
"In addition to concerning ourselves with commercial timber and non-wood products, the Association will also be encouraging the growing of marketable fruits to meet the increasing demand for both fresh and processed products," Mr. Meany said.
"We have been motivated by the fact that Jamaica's remaining natural forests, of which only 8,000 hectares have survived as relatively undisturbed forest cover, are mainly tropical hardwood rainforests that are complex in nature and remote in location," he added.
The Jamaica Tree Growers Association seeks to promote the private development and management of trees for commercial and conservation purposes. The aim is to provide economically viable products to growers, conserve the environment and to enhance the physical attributes of the country.