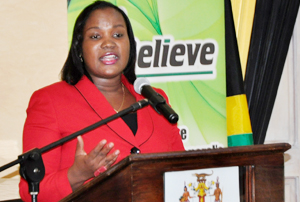 Governor–General, The Most Honourable Sir Patrick Allen at the induction ceremony for the 2015 I Believe Ambassadors today (Thursday, December 3, 2015) declared that, "It is that passion to excel beyond our limitations and to become ambassadors of success that will propel our nation into the accelerated growth which Vision 2030, the national development plan demands."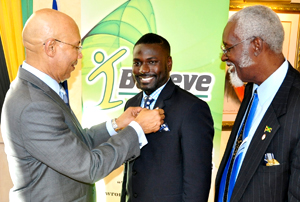 The Governor-General said the honorees, reaffirmed his belief that there were enough good people in Jamaica to cause us not to give in to despair, but rather collaborate to keep our country on solid ground.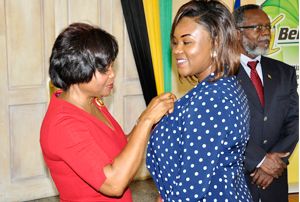 Citing their fortitude, endurance, determination and triumph to be selected ambassadors the Governor-General stated, "Your sheer sense of volunteerism and community involvement, are what is right with Jamaica and are part of the fundamental pillars building that brighter tomorrow."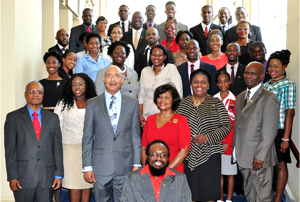 Assisted by his wife, The Most Honourable Lady Allen, The Governor-General then pinned close to eighty recipients with their badges of prestige. Thirty nine of the recipients were also Governor-General's Achievement Awardees (GGAA) for the 18 to 35 age category earlier in the year.
Recipients Romario Ricketts, Thalia Morris, Shanese Watson, Odane Graham and Cordell Williams made well received presentations on how their community projects are helping to transform communities and empower live across Jamaica.  
Fortune also smiled on three of the honourees when they received return tickets from Fly Jamaica Airways Limited to visit any one of the three countries; New York, Toronto or Guyana. The successful winners were Petrinia Williams, Ransford Davidson and Leneka Rhoden who were judged to have been most timely in responding to communication from the awards committee secretariat.
The Sponsor and Performers
Meanwhile, Mr. Garfield Sinclair, Managing Director Flow Jamaica, who brought greetings on behalf of the sponsors: the Gleaner Company, Jamaica National Building Society, Victoria Mutual Building Society, Scotia Building Society, Jamaica Broilers Group and Flow Jamaica stated that they are committed to investing in Jamaica and its people and will continue to be dedicated to corporate social responsibility programmes such as The Governor-General's Programme For Excellence (GGPE). 
He asserted that the Governor-General is correct when he instituted the I Believe Initiative (IBI) with its mantra, "there is nothing wrong with Jamaica that cannot be fixed by what is right with Jamaica."
The King's House choir, a singing group of students from Holy Trinity High School and saxophonist Corporal Euwayne Miller of the Jamaica Defence Force, offered well-received performances. Mrs. Karen Oliver, Corporate Communications Officer, Jamaica National Building Society and Mrs Joylene Griffiths- Irving, a member of the GGPE's Management Committee, presented profiles of and introduced the awardees.
This Pinning Ceremony brings to a close the activities of the GGPE for 2015. The GGPE consist the GGAA and the IBI. The I Believe Initiative empowers youth to believe in themselves to achieve their potential and contribute to nation building.