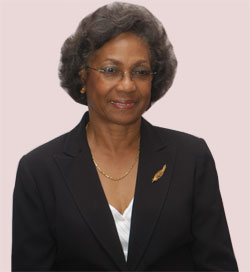 The Most Honourable Lady Hall was an Alister McIntyre Senior Research Fellow at the University of the West Indies, Mona between 2002 and 2006.
She holds a Bachelor of Fine Arts Degree from the University of Manitoba, Winnipeg, Canada, and a Master of Art Education Degree from Georgia State University, Atlanta, Georgia.  She also has certificates in Education from Mico College and certificates in Marketing and Public Relations.
Prior to her appointment at the University of the West Indies, Mona, she served as Principal of the Edna Manley College of the Visual and Performing Arts, Kingston, Jamaica, Principal of Hillel Academy High School, and Cultural Affairs Executive, Jamaica Telephone Company.  She has also had a distinguished teaching career in Jamaica at Kingston College, Jamaica College, Belair High School, and at Stone Mountain High School in Atlanta, Georgia.
Lady Hall is an accomplished artist who has had several solo exhibitions of paintings, photographs and ceramic pieces.  Her work can be found in many company collections such as Jamaica Producers Group, American Home Insurance Company, and Alberga Graham Jamaica Limited.  Outside of Jamaica, collections of her work are to be found in Trinidad, Barbados, United Kingdom, Germany, France, United States of America and Canada.
Her publications include 'Proposal for a National Tertiary Education System for Jamaica' , Ian Randle Publishers, 2004; and 'Revisiting Tertiary Education Policy in Jamaica: Towards Personal Gain or Public Good? '.
Lady Hall serves in several capacities in a large number of professional, civic and religious organizations including Lay Reader and Chalice Bearer in the Anglican Church.  She has been Member of Council, University of the West Indies, Mona campus; Member of Council, University of Technology; Chairman, The Joint Committee for Tertiary Education, and President, Woman Inc., among others.  She has also managed Jamaica's international swim teams, and has served as Public Relations Officer of the Amateur Swimming Association of Jamaica.
Her awards include International Who's Who of Professional Fine Arts and Business Women 2000.