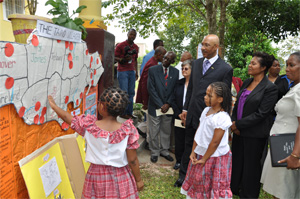 Governor-General Sir Patrick Allen says that if Jamaica does nothing else in the fiftieth years of independence, the country should resolve to protect its children and in the process strengthen the next generation.  Sir Patrick Allen made the comment while addressing students and teachers at El Instituto de Mandevilla, in Manchester.  He and Her Excellency the Most Hon. Lady Allen were on a tour of the parish on Tuesday May 15.
The Governor General said that child abuse was not a new phenomenon, but that finally it was getting some attention as a result of the media spotlight that has been placed on it recently.  He said child abuse robs children of their future and ability to learn and called on parents and teachers to be more vigilant and alert to behaviour patterns that are indicative of abuse.  "Child abuse blights children's future, vitality, innocence and ability to learn.  Let us take care of our children.  If we do nothing else in the fiftieth year of our independence let us resolve to protect our children ," the Governor-General said.
He said that while it was the responsibility of parents and teachers to protect children, students themselves should become aware of abuse so that they can be in a position to also protect themselves.  "If you are touched inappropriately tell your teacher, tell your parents, tell even the police," Sir Patrick Allen said.
Turning to the achievements of El Instituto de Mandevilla the Governor-General commended the principal and teachers for their outstanding achievements over the past 29 years, noting that what was once an evening institute has been transformed into a major educational centre.  He told the students to vigorously pursue their education and utilize their exposure to foreign languages such as Spanish and French which are taught at the school, as the knowledge they are receiving is priceless.
Their Excellencies tour of Manchester included stops at the Christiana Tissue Culture Lab, St. John Bosco School for Boys and Curphy Home.  He was accompanied on the tour by the Hon. Sally Porteous, Custos Rotulorum for the parish of Manchester, and members of the Lay Magistrates Association.