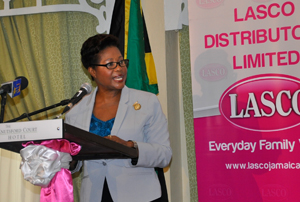 As nurses across Jamaica celebrated International Nurses' Day under the theme "Nurses for Change – A Vital Resource for Health," Her Excellency the Most Honourable Lady Allen has recommended four ways in which nurses can make a difference and be a vital resource in the lives of others.  Addressing Monday's (May 12) Nurses' Day celebration hosted by the Nurses Association of Jamaica (NAJ), Lady Allen said nurses should not eliminate themselves rather, they should stand up for what they believe is right.  She said further that nurses should serve others and also chose another person working in the profession to have as a mentor or whom they can mentor.
Lady Allen said often times persons eliminate themselves from the change process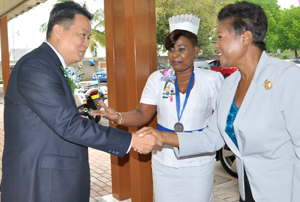 by thinking that in order to make a difference they have to do something great.  She cited the work of Mother Teresa who had no earthly possessions but received the Nobel Peace Prize for her service to the poor, sick and dying. She said nurses should stand up for what is right even when their colleagues are not doing what is right.  "Standing still can be more powerful that words. When others are ordinary you must be extraordinary, as long as you are making a difference," she stated.
Nothing that Nursing is serving others, Her Excellency said that nurses should show interest in their patients even if they are difficult.  She noted that communication is key to service and not every negative comment needs to be addressed.  "When you walk by patients and families, always recognize them politely.  If it's a long wait,
reassure them that they will be taken care of," she stressed.
Finally, Lady Allen urged each nurse to endeavour to mentor another nurse, whether a student nurse or a new graduate nurse.   She said that even when those whose lives nurses touch forget their names, nurses will not forget the difference that they made in their patients' lives.