Governor General Sir Patrick Allen says that as the global community strives to adopt stronger security measures to combat the heinous crimes committed by terrorist organizations, governments should not forget the urgent need to confront the battle for the minds and hearts of young people. He was speaking at the annual dinner for the Diplomatic Corps at King's House (Feb 12).
He said the technology revolution has made it easier for nefarious organizations to reach our youth, thus weakening the influence of the family. "The technology revolution makes it easier for the tentacles of nefarious organizations to reach them at a time when families and schools are being weakened as vehicles for the inculcation of positive values."
Noting that there is no country which is problem free, Sir Patrick Allen stressed the importance of international collaboration for joint solutions. He extended his deepest sympathies to families and peoples bereaved by terrorist action and the thousands in West Africa who lost their lives to Ebola. "There are hopeful signs that the epidemic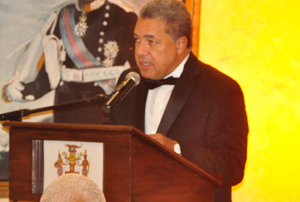 is abating. Thankfully a vaccine is being tested and we hope it will be successful so that nevermore will there be another Ebola epidemic," he stated.
In his response, Dean of the Diplomatic Corps Ambassador Jose Ares German thanked Their Excellencies and the government of Jamaica for the warm hospitality shown to foreign diplomats. He said the organization of Diplomatic Week each year demonstrates the importance of the relations between Jamaica and those countries represented here. "We deeply appreciate the briefings during Diplomatic Week although one week is not enough for non-resident Ambassadors to fully see and experience Jamaica," he stated.
Sir Patrick Allen commended the resident and non-resident Ambassadors and High Commissioners for their role in strengthening collaboration between Jamaica and its international partners. "We look forward to continuing the vibrant relationship between Jamaica and each of our partners as we pursue our common objectives," he concluded.
The Diplomatic Dinner is the highlight of Diplomatic Week which is being observed from "Building Partnerships for Sustainable Development."