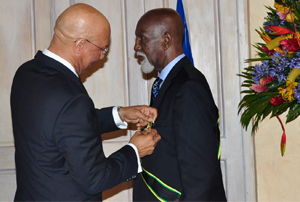 Their Excellencies the Most Honourable Sir Patrick Allen and the Most Honourable Lady Allen hosted the Investiture Ceremony of the Poet Laureate of Jamaica, Professor Mervyn Morris, in the Ballroom of King's House on Wednesday, May 21, 2014.
Professor Morris is the third Poet Laureate to be appointed in Jamaica, the others being   Messrs. Tom Redcam (posthumously in 1933)  and John Ebenezer Clare McFarlane (in 1953).
The Governor-General, in his remarks, said that he was pleased with the re-institution of the office of Poet Laureate.  "As I listened to the Citation read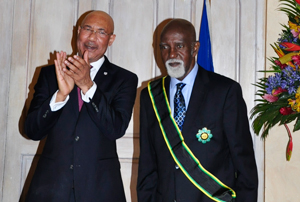 earlier by Mrs. Winsome Hudson, I could not help but feel a sense of anticipation that our poets of yesteryear will be rescued from the accumulated dust of old anthologies", said the Governor-General.
Sir Patrick noted that Professor Morris will not only help Jamaicans to understand and appreciate the work of existing poets but will also encourage that spark of creativity which bubbles in so many of the young people of Jamaica.
"Back in the days when I first listened to the beautiful, expressive poetry of "Redemption Song", I marvelled at the way that Bob Marley had given new life to the wisdom of National Hero, the Rt. Excellent Marcus Mosiah Garvey. Today, we
still cry out for people to free their minds from the baggage which enslaves.  We still urge them to open themselves to the opportunities for the achievement of the success which they dare to envision", stated the Governor-General.
Quoting the lyrics from renowned reggae artistes, His Excellency shared that he was hopeful that young people and older folk alike would be able to relate to the lyrics and to ponder on the reasons those songs endured:  "It is not just the rhythm which matters," he said.
The Governor-General wished Professor Morris "a successful and satisfying tenure not only measured by a numerous fan club, but in the quality of your impact."
At the end of his remarks, The Governor-General invited Professor Morris to receive the insignia of the Poet Laureate.
In his response, Prof. Morris said that he was deeply grateful for the honour bestowed on him. He expressed his commitment to arrange poetry reading sessions across Jamaica as well as to establish self-financing workshops to promote the development of Jamaican poetry.