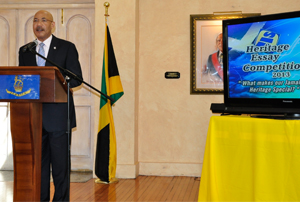 Governor-General His Excellency the Most Honourable Sir Patrick Allen on Friday, November 29, commended the Jamaica Information Service for its excellent initiative- the annual Heritage Essay Competition that was held in the Ballroom of King's House.
Sir Patrick Allen in his address recounted the works of Jamaican stalwarts and organisations that have played key roles in maintaining Jamaica's cultural heritage. He noted that much of our heritage is passed on orally from generation to generation and recalled the work done by Dr. the Hon Olive Lewin who established a Memory Bank where stories told by elderly persons across Jamaica throughout the years have been archived.
He said that: "The Hon. Louise Bennett Coverly contributed a great deal to the retention of our cultural heritage as she had revived many of our Anansi stories especially on her Saturday morning shows on the former JBC TV".
His Excellency said that the Jamaican history from the Tainos through Spanish Colonialism; through the British colonial plantocracy and slavery; from emancipation to independence and beyond, forged the rich and diverse cultural heritage of which we boast today.  Sir Patrick Allen said that it would not be ideal to speak about Jamaican heritage without referring to our popular music which has taken the world by storm.
"I know we are all happy too about Tessanne Chin. She is doing her part on The Voice to promote our music. I think that her rendition of "Many Rivers to Cross" should become part of our music history. What do you think"?  expressed the Governor-General.
Sir Patrick tested the young competitors' understanding of Jamaican proverbs when he quizzed them on the meaning of the phrase: "Jack Mandora, mi no choose none." Two students responded correctly and were rewarded with gifts from the Governor-General.
At the end of the function, Shemar Willis of the Maxfield Primary and Junior High school emerged as the top prize winner of the JIS' Heritage Essay Competition for the year 2013. He is the first male winner of the essay competition.