March 7, 2014
The Governor-General Sir Patrick Allen has indicated that organisations such as the Girls' Brigade Jamaica are like bulwarks in the mission to build the Jamaica that is envisioned for 2030.  He was speaking at the media launch of Girls' Brigade Month and Tag Drive that was held at King's House today (Mar. 7)
"… members of the Girls Brigade have excelled in various careers and in service to their country. Today, organizations like the Girls Brigade stand as bulwarks in the mission to build the Jamaica that we envision. And we know the mission immediately articulated- that is to make Jamaica the place of choice to live, work, raise families and do business," the Governor-General stated.
Sir Patrick Allen said that the Girls Brigade has empowered hundreds of women who have contributed to Jamaica's growth, thus helping to determine the destiny of the nation.  "Our young people have taken great strides towards realizing Marcus Garvey's prediction that Jamaica would, one day, 'take her place as an intelligent and progressive country, alongside other communities of the world', he said.
He reminded the group that their anniversary is a time to reflect on their achievements, renew their commitment and to derive inspiration from those who have contributed to the journey. "Many members have blazed the trail ahead of you. As you look on, you too must work to ensure that you leave a legacy. A legacy of leadership, a legacy of commitment and a legacy of strength", urged Sir Patrick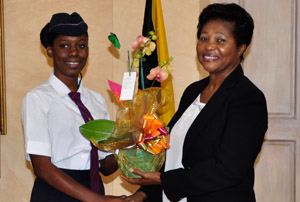 Allen.
His Excellency thanked the leaders and other volunteers who he said continue to give life to its movement. He encouraged churches, parents and guardians, as well as corporate Jamaica, to continue to support the Girls Brigade and help young people "to seek, to serve and to follow Christ."