Governor-General Sir Patrick Allen called on Church Leaders and Christian Organisations to lead the charge in steering Jamaica to a path of truth, peace and good neighbourliness.  The Governor-General was addressing a wide group of faith-based organisations at King's House on May 1, 2014.
"I desire that in the course of our discussions this afternoon, ideas will emerge as to how best the Church can take the lead in steering Jamaica back to paths of truth, peace and good neighbourliness", said Sir Patrick Allen.
He said that his role as Governor-General provides various avenues through which he may promote positive messages to the nation. This call, he indicated, he would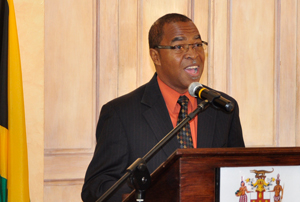 continue to promote through the Governor-General's Programme For Excellence. Sir Patrick Allen noted that, this year, he will travel across Jamaica and meet with JPs and other stakeholders. "I seek to motivate them to blanket the island with the values and principles of the Programme for Excellence and then to be role models for the excellence we wish to inculcate in the hearts of our people. My hope is that each Custos, each Justice of the Peace, each Pastor will be convincing messengers that there is nothing wrong with Jamaica that cannot be fixed by what is right with Jamaica".
Sir Patrick pleaded with the groups to "leave your proselytizing, theological differences and contentions and other biases out of the equation. We need people to
believe that that the Church is truly concerned about their wellbeing, about family and about community strengthening. And then they will know that we are Christians by our love"
The Governor-General encouraged the leaders to demonstrate humility and to work with the Government and leaders of the country to achieve what is best for Jamaica.
"As we move forward, my brothers and sisters, in one accord, we must work assiduously to be all-inclusive, listen to each other, complement initiatives that are already in progress and affirm and support those working to build our nation", stated The Governor-General.
Rev. Dr. Stevenson Samuels, Chairman of the National Leadership Prayer Breakfast called for a 'No Murder Campaign' as well as ongoing community-related ministries to signal to criminals that their actions will no longer be tolerated.
Another proposal highlighted during the meeting by Mrs. Helene Coley-Nicholson, is the establishment of a National Religious Media Production House that will focus on developing programmes aimed at diffusing positive messages and re-instilling values in the society.  These would target primarily youngsters.
The church leaders had an opportunity to put forward their suggestions as to the way forward and these would be compiled and disseminated to all in attendance.