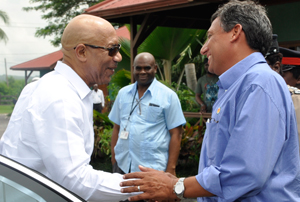 There was a certain level of excitement surrounding The Governor-General's Corporate Visit to the Jamaica Broilers Group of Companies on Friday, September 5, 2014. Though this visit mirrored previous Corporate Visits, it was however infused with very interesting activities which served as a huge reminder that Jamaicans are a resilient, God-fearing, hard-working people who refuse to be confined by their circumstances.
Indeed this too was reflected by the JBG, and was perhaps one of the pull-factors that resulted in its inclusion of The Governor-General's Corporate Visits for 2014. It was therefore no surprise when President and CEO of the Jamaica Broilers Group of Companies, Mr. Christopher Levy, after previewing the company's gospel show
'Fun-in-the-Son', proudly declared that God is at the helm of his company's success.
Speaking at the company's head office in Old Harbour, Sir Patrick Allen commended the company for its contribution to the development and enhancement of Jamaica.
"Your company has worked its way into the psyche of the Jamaican people. I think one of the reasons Jamaica Broilers is such an impressive company is because its objective goes beyond making money. It holds dearly to its corporate social responsibility- you are doing something that is attractive and appreciative," Sir Patrick Allen stated.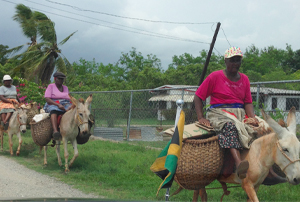 He said he was pleased that the company was not afraid to show their faith and source of its overall success.
Shortly thereafter, His Excellency the Most Hon. Sir Patrick Allen presented a Certificate of Commendation to Mr. Levy who was also officially branded an "IBI Ambassador" when he received his IBI pin from The Governor-General.
The next phase of the visit led to the company's Further Processing Plant at one of its Operating Division, Best Dressed Chicken, in Spring Village St Catherine. This particular community is no stranger to The Governor-General. Just a few blocks away from the Plant stands the I Believe Spring Village Community Medical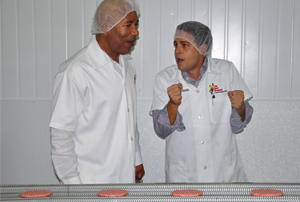 Centre, a project which is endorsed by the Governor-General's I Believe Initiative. One could easily tell why Sir Patrick Allen is motivated by the thriving spirit of the people of Spring Village. Their self-help nature was again on display as, just metres away, three female farmers modestly strutted by on their donkeys seeking sale from their produce.
At the end of a very detailed, informative and insightful tour of the processing plant led by Mr. Mr. David Machado, Sir Patrick Allen declared: "This is why I will continue to believe that we, Jamaicans, have the power to transform our nation. I look around, I see your creativity, your impressive marketing strategies and I also people who are dedicated and passionate about their work."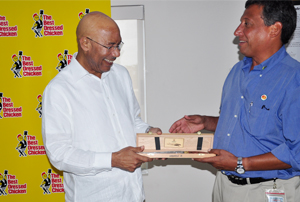 Next stop was a tour of the company's newest initiative, the Grain Storage Silos which were commissioned during the visit. The workmen demonstrated for The Governor-General how grains will be stored for an extended period. The infrastructure is equipped with an irrigation tunnel and fans to help to eliminate the growth of mold and toxin from the corn.
At the end of the visit, Governor-General Sir Patrick Allen thanked Mr. Levy and his team for an insightful tour. "I hope I speak on behalf everyone here when I say that we have had quite an interesting tour," he stated. He also thanked that half of the JBG for their hospitality and commended the team on its innovation and strategies being used to keep the company moving in a positive direction.