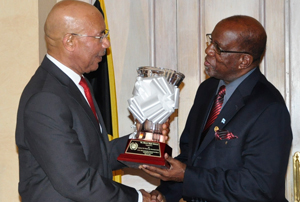 At the 6th staging of the Jamaica Institute Management Limited Manager of the Year Awards Ceremony, His Excellency the Most Honourable Sir Patrick Allen, President of JIM, said that he is proud that the institution turned the loss of sponsorship to into an opportunity of growth. Sir Patrick Allen was speaking at their annual award ceremony held in the ballroom of Kings House today, May 29.
He noted that his vision for JIM, is to inspire managers to become good leaders who will move beyond the contemplation of the navel of our problems in our society.
"We have a wealth of analysts who focus with admirable intellect on our difficulties. But I never cease to be amazed and encouraged by the vision and mental agility which
I encounter in our people at so any levels, in both Urban and rural areas", said The Governor-General.  Sir Patrick Allen went on to state that he is encouraged to believe that it is within our capacity to find solutions which will foster growth in Jamaica.
The Governor-General called for greater collaborations, which he said will sideline barriers and divisiveness so the nation could achieve its best potential. He expressed his gratitude to the companies represented at the awards ceremony for their support of his I Believe Initiative as well as the Governor-General's Achievement Awards, both of which comprise the Governor-General's Programme for Excellence.
Dr. Henley Ward Morgan, Chairman Emeritus of the Agency for Inner-city and Mr. Richard Powell, Managing Director of Victoria Mutual building Society were awarded the JIM 2013 Entrepreneurship and Community Development Award and the JIM 2013 Manager of the Year Award respectively. The presentations were made by His Excellency The Governor-General.