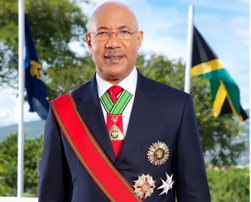 My fellow Jamaicans,
Happy New Year! The dawning of a new year is always a good time to review the past and draw on the lessons learnt, to chart the way forward. 
This New Year, no doubt, will come with its opportunities and challenges but from the outset we can choose to pursue a path that will improve our social interaction and conduct, personally and nationally.
We can continue to build diligently on the things we do well:
· Our international relationships are good and should be maintained;
· Achievements in sports, academia, and some other areas are commendable;
· Many positive things are happening through the efforts and achievements of our people;
· We should continue to accentuate the right things about Jamaica even as we show very strongly our disapproval of the destructive elements that emerge among us from time to time
Unfortunately, we will have incidences of crime, violence, road deaths and corruption in 2016, but through the aggregate efforts of each one of us, we will be able to move our country out of the clutches of poverty, debt and social malaise.
There are some values that will be useful to us and which we will have to strive ardently to indelibly incorporate in our culture and work ethic. These core values include: 
· respect for others and their property, 
· forgiveness, cooperation, honesty, love and care
· integrity
· a sense of responsibility
· emphasis on quality
· discipline, and a sense of team work
2016 will be a very active year for us in Jamaica with a number of local and international events which will attract our attention and involvement. We will have the opportunity to demonstrate that we are able to rise to any occasion and surmount challenges with a positive attitude.
One of these challenges that we must confront is the persistent abuse of our women, children and youth.  Too often we stand aside and lament in despair, the worsening conditions and even criticize individuals who are trying to help. It is so bankrupt to criticize when we can make a difference and be involved in the neighborhoods and communities of this nation.  
We can utilize our skills and professional expertise to mentor and help individuals, who need healing. We have vast expertise in our social workers, teachers, doctors, lawyers, nurses, counselors, Justices of the peace, pastors, among others, from which our young people can benefit. 
Give to them your skills in mentoring, for the long haul; help them rise above their present circumstances.  You may be surprised and satisfied as you 'step up' from 'token giving' to touch lives; and see how many broken persons you have mended. 
In these ways we are using what is right in Jamaica to fix what is wrong with us.
A New Year brings new opportunities for excellence – it is my hope that this year will be one where all your dreams are realized and aspirations met personally and nationally.
Lady Allen joins me in extending best wishes to you, as we continue this year, our journey for a bright and prosperous nation.