As Grand Patron of the Jamaica Legion, it is always an honour and a privilege for me to launch the Annual Poppy Appeal.
We recall at this time both the horrors of war and the courage of those who fought for freedom.  In households across the length and breadth of Jamaica, there are photographs and other mementos keeping alive the memories of ancestors who believed in freedom and sought to protect the future peace and security of their loved ones.
Today, the Jamaica Legion reminds us of the courage, vision, sacrificial service, and legacy, which our men and women have left us and generations which would follow after them.
We stand on their shoulders with gratitude and pride. We are conscious of the reality expressed by the poet, that while it was said that "the evil that men do lives after them" it is also true that the "good is oft interred with their bones."   Occasions such as this allow us to recognize the debt we owe to those who died on Flanders fields as well as all others in the wars of the last century so that the world might be a safer place today.
It is incumbent on us all whether we are Military personnel, heads of families, or responsible citizens, to protect, preserve and develop the institutions which build peace, tolerance, harmony and goodwill, where we are planted.  The predecessors whose contribution and memory we mark today deserve our commitment to the carrying out of that mission.
On this day when we launch the Poopy Appeal, we would do well to remember the atrocities of the wars of the 20th century – how brutal and destructive they were. Human history is replete with the horrors of war, but the wars fought mainly in Europe involved the whole world which were aligned with either the Allied or the Axis forces.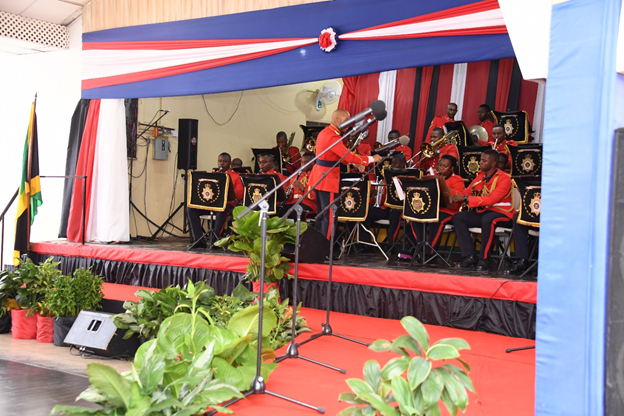 There have been subsequent realignment and the constant preparation and threat of war, but if that happens again, it will be of apocalyptic proportions with the possibility that no one is left behind to 'Remember', because the weapons of our warfare are not only machine guns and atomic bombs, they are now more sophisticated nuclear and cyber, drones, et. cetera, et. cetera.
In this Remembrance season as we sell, buy, and wear poppies in memory and in support of our military veterans, let us remember the carnage and sufferings of the past and do everything we can to prevent another catastrophe of this magnitude in our world.
The standards of our Jamaican military men and women of this generation speak well of the traditions which they have followed.  We are psychologically enriched by the pride and their precision in all the critical areas of their work, whether it be in special operations or at ceremonial events.  They are among our citizens who bring out the best of Jamaica. Long may that continue.
I commend and thank all the organizations and volunteers on their commitment to making the annual Poppy Appeal as successful as possible.  I hope that whatever monetary target has been set will be significantly exceeded, as our Ex-Servicemen and women deserve no less.   This is a situation in which we are happy to learn that a target has not been missed but has been well and truly overshot.
It is my great pleasure to declare the 2019 Poppy Appeal duly launched.