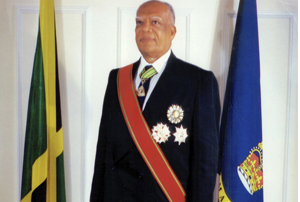 Cabinet has decided that Former Governor-General the Most Honourable Sir Howard Cooke, is to be granted a State Funeral.
The funeral is scheduled for Friday, August 8, 2014 at the Cathedral of the Most Holy Trinity, 1 George Headley Drive, Kingston commencing at 10:00am. Interment will follow at National Heroes Park.
According to a press release issued by the Office of the Prime Minister, "State Funerals are accorded to Governors-General and Prime Ministers and such other persons whom the Cabinet may from time to time determine."
Further details on the period of the State mourning, Signing of Condolence Book and Lying in State will be announced.