September 30, St. Thomas/ Four outstanding individuals from the county of Surrey received the prestigious Governor-General's Achievement Awards (GGAA) at the final (adult) presentation ceremony which was held at the Whispering Bamboo Cove Resort last Friday.
The recipients, Ms. Coreen Angela Dennis of the parish of St. Andrew, Mr. Cosmo Jowhill of Kingston, Ms. Christine Downer of Portland and Ms. Donna-Lee Minott were each presented their award by Governor-General Sir Patrick Allen who publicly recognized the recipients for their unparallel contributions to community development.
The Governor-General, in giving the main address, said that "These four award recipients are everyday Jamaicans who did not allow challenges to derail them during their childhood…instead, they remained focused, they persevered in their determination to achieve personal growth and development."
The recipients were commended by the Governor-General for their strong yearning to reach out to others, having themselves "passed the worst". He noted that the nation was proud of them for consistently demonstrating that success demands self-confidence.
Sir Patrick used the opportunity to thank the corporate sponsors CIBC/First Caribbean International Bank, the Gleaner Company, the Jamaica National Building Society and the Victoria Mutual Building Society along with the Honourable Custodes of the parishes, who had ensured that the programme maintained its integrity over the years.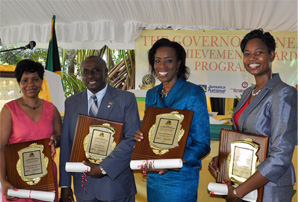 Responding on behalf of the awardees, Ms. Minott pledged their commitment to serving their communities in whatever capacity they are called to serve. She used the opportunity to praise the Governor-General and the sponsors for having made the event possible.