Referring to the recent joint unprecedented statement issued by Prime Minister the Most Hon. Portia Simpson Miller, the Leader of the Opposition Andrew Holness and him in his capacity as Governor-General, His Excellency the Most Honourable Sir Patrick Allen reiterated the call for Jamaicans to reclaim their country. He was speaking at the Installation ceremony for the Hon. Norma Walters, Custos Rotulorum for the Parish of St. Ann on Thursday, March 14 at the Seville Heritage Park.
"Today I am renewing that call, starting with the people of St. Ann. Wherever you live – whether in Claremont, Prickly Pole, Llandovery, Dumbarton, St. Ann's Bay, Bamboo, Mile End, Brown's Town or Ocho Rios, I urge you to play your part in a national movement for the restoration of peace, love, honesty, forgiveness and reconciliation in your parish and in our nation", said Sir Patrick Allen.
He expressed concerns about the serious challenges facing the parish and by extension Jamaica, but remained
hopeful that together, the entire nation can make a concerted effort to take back our island "from the grip of crime and the shroud of negativity".
"We asked that each Jamaican reflect on where we are as a people and see how far we have deviated from the values and traditions which our forebears held sacred", he said.
Sir Patrick Allen's charge to the first female Custos of the Parish was clear:
"Custos Walters, you know that your role as an impartial leader is critical to this process of recovery. I urge you to strengthen the team effort with your Justices of the Peace to help resolve some of the problems facing this parish", he said.
The Governor-General encouraged the Custos to carry-on the legacy of her husband, now retired Custos the Hon.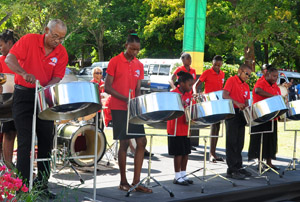 Radcliffe Walters, and to reinforce the value of hard work and integrity as key ingredients for success.  Custos Walters is also the first spouse to replace her husband in that capacity.
Sir Patrick Allen charged the  new Custos  to give of her best to promote the Governor-General's Programme of Excellence in collaboration with the  parish committee, Justices of the Peace as well as business and community leaders. 
Commending the former Custos for his outstanding work in the parish, The Governor-General expressed his gratitude to him for the continued support given to Lady Allen himself.
In her response, Custos Norma Walters said that she planned to consolidate the gains so diligently built by capitalising on the parish's successes. 

"… I must continue the focus on issues that create opportunities for justice, peace, fair play and respect", she said. Custos Walters said that she would work in partnership with the St. Ann's Bay Lay Magistrate Association's mentorship programme to address some of the issues faced by families.