I Believe Initiative, through its Patron, Governor-General His Excellency the Most Honourable Sir Patrick Allen, has endorsed a new scholarship programme forged between the Jamaica National Foundation and the University of Birmingham. Under the programme, three one-year tertiary level scholarships will become available over a three year period starting in September 2014, to Jamaican graduate students who meet the requirements.
Speaking at the official launch of the "University of Birmingham and Jamaica National Foundation Legacy Scholarship" in the Ballroom at King's House today, the Governor-General said that his Initiative welcomes the launch of the scholarship: "This brings much pleasure to Lady and me, since we were there at the very birth of the concept. We are deeply grateful to both institutions which share the IBI's passion for unearthing hidden potential", said The Governor-General.
Sir Patrick Allen said that his 'I Believe' Initiative seeks to create opportunities for Jamaicans and our young people in particular to realize their God-given potential through education, youth development programmes and the strengthening of family life in Jamaica.
"Mr. Earl Jarrett is one of our strongest supporters and through him, the JNBS' partnership with the University of Birmingham has embraced the IBI. We are very pleased that this scholarship will afford three Jamaican students each year, for the next three years, the opportunity to pursue graduate studies at that prestigious University", said The Governor-General.
He noted that he believed in partnerships for the purpose building of a prosperous, productive Jamaica and looks forward to a long and fruitful relationship with the University and the city of Birmingham.
His Excellency said that certain events, particularly the 2012 Olympics and the Jamaica 50 Celebrations are largely responsible for the activities which unfolding at the launch. He said that during these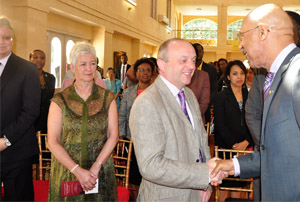 occasions, the special bond between Jamaica and the City of Birmingham was also on display.