Thursday November 14, 2013 – Governor-General His Excellency the Most Honourable Sir Patrick Allen and Her Excellency the Most Honourable Lady Allen hosted His Excellency Mr. Michel Martelly at a State Luncheon held in honour of the Haitian President who was paying his first State Visit to Jamaica.
During his visit, President Martelly paid a Courtesy Call on the Governor-General and Lady Allen and gifts were exchanged between the two Heads of State.
Immediately following the Courtesy Call was the State Luncheon which was held in the Ballroom (King's House). The guests at this event were headed by Prime Minister the Most Honourable Portia Simpson Miller, Leader of the Opposition Mr. Andrew Holness, Former Prime Minister of Jamaica the Most Hon. P J Patterson, Cabinet Ministers, the Chief Justice, members of the Diplomatic Corps and private sector leaders.
In welcoming his guests to the Luncheon, The Governor-General said that the elation of hosting leaders, especially those from the Caribbean community, had not faded throughout the years.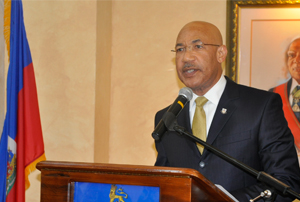 Sir Patrick Allen noted that the relationship between the peoples of Jamaica and Haiti had "…flourished and formed the basis for formal policies to advocate and support Haiti's restoration of peace and democratic stability, the consolidation of governance and economic recovery, as well as Haiti's rehabilitation in the awful aftermath of the catastrophic January 2010 earthquake."
The Governor-General, who revealed how moved he was having heard the President speak about the enormous challenges being experienced by the Haitian nation, said: "I think we all understand how great is the difficulty of delivering the programmes for which the people clamour, in a context where the Government is constrained by inadequate resources."
At the end of his remarks, The Governor-General called on his distinguished guests to join him in a toast to the peaceful stability and prosperity of Haiti and to the enduring friendship between the two countries.
President Martelly, responding with the assistance of a French interpreter, thanked Their Excellencies and Government officials for the kind courtesies extended to him on his visit to Jamaica.  He highlighted the focus of his visit: to strengthen ties in areas including sports, tourism and cultural exchange, to name a few. He described his meetings so far as being 'very promising', and stated that Jamaica and Haiti are committed to the well-being of both countries. President Martelly concluded by raising a toast to the Government and people of Jamaica.