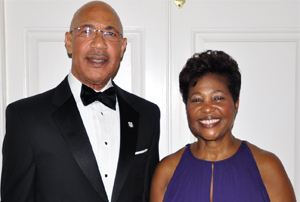 Governor-General His Excellency the Most Honourable Sir Patrick Allen said that Jamaica looks forward to deepening its relations with the Diplomatic Community in order to confront numerous global challenges such as those posed by climate change and safety and security.  He was speaking at the Annual Dinner for members of the Diplomatic Corps which was held at King's House on Thursday, February 6.
"Jamaica looks forward to deepening our relations with all the States represented here, as together we seek to confront numerous global challenges.  Some including climate change and safety and security, pose a real threat to our very survival.  Of course, we must also redouble our efforts aimed at promoting good governance and sustainable development for the benefit of our peoples", Sir Patrick Allen said.
While he outlined several moments of national pride during the last year, the Governor-General said that Jamaica was beset by socio-economic challenges, but that thankfully it was spared from the onslaughts of hurricanes, floods and related disasters.
Sir Patrick Allen said that the success of the annual programme of activities to mark Diplomatic Week must be measured by the high level of support they continue to receive. He cited for example, the addition of the Consular Corps' Trade Expo which he said has added a new dimension to the week's activities.
The Governor-General acknowledged the Diplomats whose tenure have ended in Jamaica and expressed his confidence in those will now serve in their stead.
"One of the principal experiences in the life of a diplomat is constant change and the ability to adapt to change.  It is in this context that last year, we bade farewell to several very good friends who were resident Heads of Mission: the Ambassador of the Republic of Cuba- former Dean of the Diplomatic Corps; the British High Commissioner; the Ambassador of the People's Republic of China and the Ambassador of the United States of America.  I believe that Your Excellencies, the new Ambassadors and High Commissioners, like those whom you have replaced, will also endear yourselves to Jamaica and I can tell you that Jamaica will endear herself to you", said the Governor-General.
The Annual Dinner is a key element in Jamaica's celebration of Diplomatic Week. In addition to the cocktail reception which preceded the dinner, the Ambassadors and High Commissioners and their spouses were introduced to Their Excellencies and other members of the greeting party in a brief call-up session. In attendance were: Dr. the Hon. Peter Phillips, Minister of Finance and Planning representing the Prime Minister, Senator the Hon. Arnold J. Nicholson, Minister of Foreign Trade, the Honourable Mrs. Justice Zaila McCalla, Chief Justice, the Hon Mr. Justice Seymour Panton, President of the Court of Appeal among other invited guests.