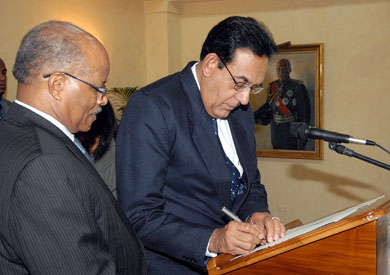 The Governor-General, His Excellency, the Most Hon. Professor Sir Kenneth Hall, on Thursday (Oct. 29), presented three judges with their instruments of appointment to higher offices within the judiciary, during a swearing-in ceremony held at King's House.
Justice Mahadev Dukharan was confirmed as Judge of the Court of Appeal; His Honour, Mr. Frank Williams, was appointed to act as Puisne Judge in the Supreme Court; while Miss Nicole Simmons was appointed to act as Master in Chambers in the Supreme Court.
Sir Kenneth noted that the appointment of the judges was made possible by concerted efforts on the part of the Government and other stakeholders, to reform and modernise the Jamaican justice system.
"The comprehensive review of the justice system resulted in a set of recommendations, that are intended to modernise the administration, operation, and structure of the system," Sir Kenneth said.
"A direct benefit of the review process is the amendment of the Judicature (Supreme Court) Act which allows the Minister of Justice to increase the number of Puisne Judges and Masters in Chambers at the Supreme Court. Your appointment today, therefore, is intended to help expedite the judicial process," he stated.
The Governor-General noted that the review process should help in restoring confidence in the ability of the justice system to deliver in a timely and cost effective manner.
Sir Kenneth encouraged all stakeholders to co-operate with the reform process, as the government endeavours to create a justice system that is capable of meeting the current and future needs of Jamaicans.
President of the Court of Appeal, Justice Seymour Panton, congratulated the newly sworn-in judges by reminding them that they are to "forever be conscious of the oaths that you took today."
"The country has a very good record in relation to the performance and integrity of our judges and at all times I need not stress, that those factors must constantly weigh in your thoughts," Justice Panton said.
Meanwhile, Chief Justice, Mrs. Justice Zaila McCalla, said the increase in the number of judges is welcomed.
"It is something that should have been done long time ago and it has finally been done, and we are appreciative of that," Mrs Justice McCalla pointed out.
She said the judges are being appointed at a time when the level of criminal activity has increased greatly, adding that "we will need men and women of strong mettle… with the will to tackle what we see ahead of us."
"I wish to welcome you all. There is much work to be done, and we have to do it. (I however) wish you well," Mrs. Justice McCalla said.