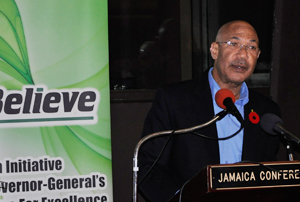 At the end of the Governor-General's I Believe Initiative Youth Consultative Conferences, delegates from across the island expressed their sincere appreciation for the well-planned sessions which they say have boosted their confidence in their ability to gain opportunities from the Global Logistics Hub Initiative.
Kevin White, one of the Surrey youth delegates said that "these sessions are reinforcing what I learnt in school, I even used the business model canvas for a project at school. This is great for us future entrepreneurs because I too believe that I am a brand. I am really honoured to be in the same room with The Governor-General and I am really impressed with the work he has been doing through the IBI."
Shana-kay, another delegate, said that she enjoyed the presentations made by Dr. Fritz Pinnock, Executive Director of the Caribbean Maritime Institute of Jamaica and Chairman of the Logistics Task Force Subcommittee on Education and Training. "His presentation grabbed my attention from beginning to end, the videos were really good in bringing his point across. If we are really prepared for the Hub, then we will benefit.
The aim of the Conferences, was to provide beneficial information for young people and create a platform for them to air their concerns as well recommend solutions.
In welcoming delegates to the Surrey leg of the YCCs the Governor-General said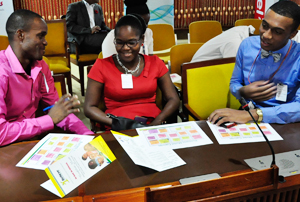 that this year's theme of "Confident Youth Making a Strong Future through the Global Logistics Hub" reflects his vision for the youth of Jamaica. He said he was hopeful that the presentations would clarify the "Hub's significance in the country's development as we move toward the attainment of Vision 2030. "You know the tagline for Vision 2030: "the place of choice to live, work, raise families and do business," he stated as he encouraged delegates to believe in themselves.
Sir Patrick reminded the delegates that the conferences were designed to meet their needs and encouraged them to conquer any shyness which might inhibit them. "Remember that questions are critical to an increase in discovery and knowledge. Grasp the opportunity to share your thoughts on the Global Logistics Hub," he said.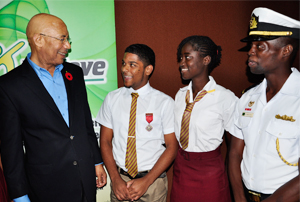 The Youth Consultative Conferences were held in partnership with Digicel Jamaica,  the Jamaica Public Service Foundation, Caribbean Maritime Institute, Grace Kennedy, Jamaica National Building Society, Jamaica Broilers Group, Junior Achievement Jamaica, First Regional Co-operative Credit Union Ltd., The Jamaica Conference Centre and Caribbean Airlines Limited.