A total of 73 students were recognised for their exceptional academic performance under Sagicor Life Jamaica Limited's Corporate Scholarship Programme at an awards ceremony held on August 5 at the company's headquarters in New Kingston.
The students were selected from 79 applicants, of which 50 were at the primary level and 23 at the secondary level.
Now in its 19th year, the scholarship programme was established to provide support to children of Sagicor employees who have demonstrated academic excellence, as part of ongoing efforts to expand the range of benefits to employees and to promote academic excellence.
Sagicor's Assistant Vice President for Human Resources, Jacqueline Cook, noted that the programme is open to children of all permanent employees of Sagicor who have attained at least a B plus average; demonstrated character and integrity in school; and have shown leadership potential and involvement in the wider society through extra-curricular activities.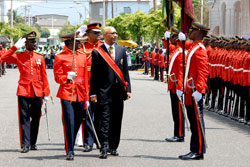 Wife of the Governor-General, Her Excellency the Most Hon. Patricia Allen, who was guest speaker at the event, praised the awardees for "a job well done" in achieving and maintaining high averages during the last school year.
"Your success is also an indication of the commitment and support of your parents and teachers who gave of their time and efforts and shared their knowledge and understanding of various subjects with you," she said.
She further noted that it was commendable that the scholarship programme supports learning by requiring that students not only maintain a high record of academic excellence, but also demonstrate good character and integrity, leadership potential, and active interest in the wider society.
"I commend Sagicor for the sustained way in which the company has contributed to the education of the children of employees, preparing them to be masters of their own destinies on a platform of integrity, respect, performance communication and team work (which) represents a significant building block in the development of Jamaica," she said.
President and Chief Executive Officer (CEO) of Sagicor, Mr. Richard Byles, said the programme helped the company in fulfilling its corporate responsibility, and that it assists staff who face increasing costs of sending their children to school. He added that it was most noteworthy that the programme serves to reinforce the value of studying and achieving excellence.
"In nurturing these high performers, what we are doing is creating the material that is going to build and run and be responsible for our society later on," he said.
Under the programme, special awards are given at the primary level to first time male and female awardees, as at the secondary level for sustained excellence at.
Recipients of these awards must attain an average of A to qualify. Scholarships are awarded for five years at the primary level and at the secondary level on condition that the recipient maintains a B plus average.
Jada-Rae Taffe, of the Mona Preparatory School and Najean Poyser Hosanna Preparatory School were this year's first time awardees at the primary level. Gabrielle Chin, a First Form student of Campion College, and Third Form student also of Campion College, Mikhail Campbell, were this year's recipients for sustained excellence at the secondary level.
Another special awardee, Dana Virtue, a graduate of the Immaculate Conception High School, walked away with this year's Sagicorian award for all-round sustained excellence.
The scholarship programme is financed through staff contributions ranging from $250 to $5,000 per month, is match by the company.