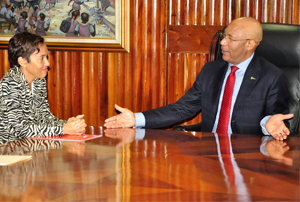 Governor-General Sir Patrick Allen culminated his series of Corporate Visits for 2014 with a motivating visit to the Scotiabank Centre in Downtown Kingston today, September 12, 2014. President and CEO, Mrs. Jacqueline Sharp warmly welcomed him and led a presentation on the bank's history, services, investments in youth and contributions to community development.
In addition to the enthusiasm of the Executives and employees who received The Governor-General, His Excellency was impressed by the evidence of the Bank's unwavering commitment to nation building. It was apparent that the Bank's business philosophy, effective service delivery and keen sense of corporate social responsibility had been instilled in the minds of the management and staff. Sir Patrick Allen commended them warmly and encouraged them to continue to build on the rich legacy established by the bank for the past 125 years.
"You have been here, and successfully so, through all the eras of very challenging and transformative times. This is a clear indicator that you have been doing something right for the people of Jamaica for the past 125 years," said Sir Patrick Allen, who had presented a commemorative plaque to Mr. Bruce Bowen at King's House on September 4.
He noted that the wide spectrum of services which the bank offers, including its involvement in positive community relations, is integral to the approach to be taken for transforming the nation. Commenting on the long-standing relationship between Scotiabank and the Office of the Governor-General, he said that his visit was more than an expression of appreciation. It formed part of his broader initiative to deepen his interaction with all sections of Jamaica, as well as to encourage and motivate key-players who will help to make this transformation possible.
Scotiabank is one of the founding sponsors of the Governor-General's Achievement Awards and a significant partner for the "I Believe" Initiative (IBI). "You continue to lend your support to both programmes and I want to thank for your support over the years," he said.
It was evident that the bank was not only financially committed to both programmes, but also to their core beliefs. The Governor-General was moved when Althea Bell-Grant, Senior Manager Credit Risk Management at Scotiabank, recited one of the IBI's core beliefs: "I believe that our greatest asset has always been our human capital…" Further, the full text had been scripted and beautifully mounted as a motivational reminder to Staff.
The Governor-General responded to the great work being done by the Scotiabank Volunteers by endorsing that programme as reflective of the principles and spirit of the Governor-General's Programme for Excellence. He was also very pleased to accept their invitation for him to be an Honorary Scotiabank Volunteer, as the group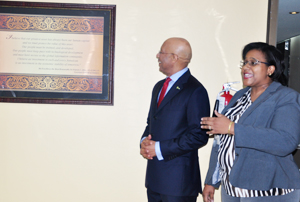 pledgedtheir alliance with the GGPE/I Believe Initiative.