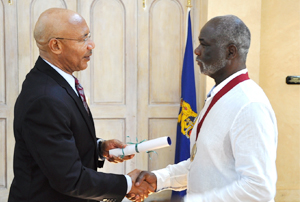 Governor-General and Patron of the National Chorale of Jamaica, Sir Patrick Allen has conferred the Chorale's inaugural Medal of Excellence on world renowned musician Sir Willard Wentworth White, in recognition of his achievements and contribution to Classical Music. The medal was presented at an awards ceremony held at King's House on Tuesday, August 11.
In accepting the award, Sir Willard stressed that a track record of excellence must be maintained, if one plans on leaving an indelible mark on the world. "Many times I am the one Jamaican and the one black person; but I stand there knowing that no one else can stand where I stand in those moments," he disclosed.  Sir Willard further quipped that as a young man he had often times walked by King's House but never thought that one day he would have a reason to go inside. 
He had high praises for his mother who he said was illiterate, but was a pillar of strength in her community.  "My mother could not read and write, yet she ran a farm and people loved and respected her.  She was one of the pillars of Charlton in Ewarton and that gave me my strength," he declared. 
Born in Jamaica, Sir Willard White was educated at Excelsior High School and the Jamaica School of Music. One of the most versatile opera singers of the last forty years, Sir Willard's career has taken him to the most prestigious opera houses and concert halls throughout the world.  He was knighted by The Queen in 2004 and is also a recipient of the Order of Merit from the Government of Jamaica and the Gold Musgrave Medal from the Institute of Jamaica. 
The National Chorale of Jamaica Medal of Excellence will be presented biennially and conferred on a musician or other performing artist or individual engaged in the field of music, whose work significantly contributions to the artistic legacy in Jamaica and or internationally.