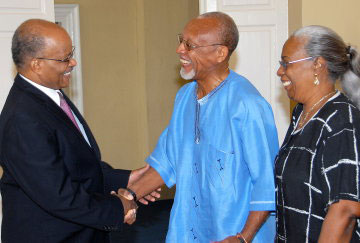 The Violence Prevention Alliance (VPA) will observe February 6 to March 4 as Peace Month, under the theme: 'Peace for Prosperity.'
Governor General, His Excellency the Most. Hon. Professor Sir Kenneth Hall, read the proclamation to formally declare the month of observance, during a brief ceremony at King's House on (Feb. 4).
In delivering the proclamation, Sir Kenneth, who is patron of the VPA, said that violence continued to be a serious problem that plagued Jamaica. He called for initiatives to effectively address the problem, noting that it is not sufficient just to acknowledge it.
Sir Kenneth noted that the VPA's work in this regard, "indicates the complexity of the initiatives and the interventions that are needed to address the problem," and pledged his continued support for the group's efforts.
The Governor General also had high praises for the support that the VPA has been receiving from national and international organizations, including the Jamaica National Building Society (JNBS) Foundation, and the United Nations Children's Fund (UNICEF).
"I am pleased that you are getting support from a range of national and international agencies as this is an issue requiring the full support and involvement of our local, national, regional and international partners," Sir Kenneth stated.
In responding, Chairman of the VPA's members steering group, Professor Barry Chevannes, commended the Governor General for lending "his authority to an effort that we, volunteers really, are attempting to do."
He further said: "what is not really widely known, is that there is a movement for peace (which is) attempting to counter (and) push back the spirit of violence and aggression, to restore our country to a relative state of calm. It is this movement that we are so pleased to be a part of and that you (Sir Kenneth) have assisted with this proclamation."
Activities to be undertaken during the month include marches, and sporting events, which Professor Chevannes said, will culminate with a "public demonstration" on the streets of Kingston.
"We plan a large march where people can come out and demonstrate that the movement for peace will rise as great as the movement against it, and that we can, in fact, say no to violence (and) no to aggression," he stated.