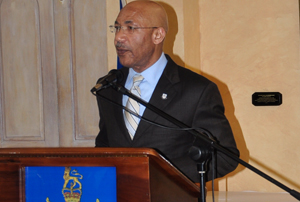 Seventy-five persons today received their Instruments of Appointments as Mentors of the Respect Agenda Programme at an official ceremony held at King's House. Patron of the Respect Agenda Programme, His Excellency the Most Honourable Sir Patrick Allen, made a symbolic presentation of the Instruments to Ambassador Burchell Whiteman.
The National Mentorship Programme (NaMP), an element of the Respect Agenda campaign convened by the Ministry of Education, is aimed at recruiting past students to act as mentors at their alma mater. The programme seeks to include leaders from the various sectors along with exemplary members of society.
Sir Patrick Allen commended the National Mentors for pledging to invest in their Alma Mater "I think many of you are already fully involved in some other project in support of your school, whether it be financial assistance to needy students, or the upgrading of the school's facilities", said Sir Patrick.
He said that under the "I Believe" Initiative, which is a part of his Programme for Excellence, there are Ambassadors who serve as Mentors at the Holy Trinity High School.
"They are drawn from various professions. None of them attended Holy Trinity High School. Though they have bonded well with their mentees and are inspiring
them in various ways, the fact is that they cannot say: "I am a graduate of HTHS and whatever I have achieved in life, so can you, if you are prepared to work hard and make right life choices".
Sir Patrick said that society is affected by poor parenting skills and that in some cases, is bedeviled by the absence of parents or authority figures to provide sound guidance. "Teachers and guidance counselors cannot bear the burden alone.  A mentorship programme such as this is not merely relevant. It is essential", he said.
It is with this in mind that the Governor-General called on the nation to support students, especially in times of competing value system and the attraction many of our youth feel towards poor role models. "There is ample evidence that our schools are under attack. Too many students have lost their self-respect and some are either victims or perpetrators of crime", he noted.
In acknowledging the school-based competition, Girls and Boys Champs, currently underway, Sir Patrick Allen said that "it is certainly going to be an exciting event this year. I can't cheer for any special team as I am already cheering for all the young people who will be competing. I must also commend them for a violence-free event. This is a good indication of what we would like to see executed in Jamaica."