Their Excellencies, Governor-General the Most Hon. Sir Patrick Allen, and Lady Allen, made an official visit to the Mavis Bank Coffee Factory Thursday (July 15) to get a firsthand view of the facility.
Nestled deep in the Blue Mountains, at an elevation of approximately 3,000 feet, the Mavis Bank Coffee Factory is Jamaica's largest and only fully integrated Jamaica Blue Mountain Coffee facility. Approximately 1.4 million pounds of green beans from over 6,000 farmers are processed there annually.
During the tour of the facility, their Excellencies were escorted by Chief Executive Officer (CEO) of the company, Senator Norman Grant, to key areas within the plant, during which they interfaced with staff. Some of the areas visited included: the cupping lab; the display, sorting and storage areas; the picking block; the roasting and packaging areas.
In an interview with JIS News, the Governor-General said that he was "very impressed" with the operations.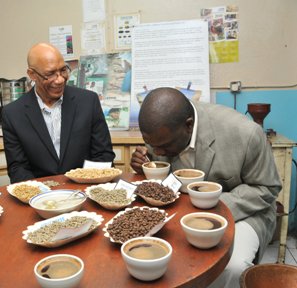 "I like what you do to ensure that there is integrity in what (is) sent to the market: The whole matter of purchasing, processing, packaging and the quality of what you do, the testing, the tasting and everything. We want to identify with the quality of work you do and to assure individuals, that what they get coming from your company is the best. We have seen it for ourselves," he told JIS News.
The Governor-General further commended the staff for the integral role they play in providing coffee of the finest quality to consumers.
Senator Grant said that the plant prides itself in processing the finest coffee in the world.
"At the end of 2009, we recorded sales of $1 billion, which really makes our operation the largest coffee operation in Jamaica," he said.
Mr. Grant noted that the plant continues to support the coffee farmers in and around the areas, and that during the last crop the company bought over 100,000 boxes of coffee and paid out some $350 million to farmers.
He said that an agreement was recently signed with Barnie's Coffee and Tea Company, where the Jablum brand coffee will be introduced to some 40 stores in Florida.
"We have granted a licence to our agent in Atlanta, Edgar Munn, and we are now roasting coffee in the USA, as a part of our strategy to expand the value added business," he said. The Jablum brand coffee is produced at the Mavis Bank Coffee Factory.
Senator Grant said that the visit of Their Excellencies will inspire the company "to support our workers.our farmers and ensure that we grow the business of Jamaica Blue Mountain Coffee."
Barnie's Coffee and Tea Company is one of America's largest privately owned gourmet coffee and tea purveyors.