Governor-General Sir Patrick Allen is urging Jamaicans to support the Girls' Brigade's tag drive during the month of March which is also being observed as Girls' Brigade Month. His comments were outlined in an address delivered by the Hon. Steadman Fuller, Custos Rotulorum for the parish of Kingston, at the launch of Girls Brigade Month at King's House on Friday, February 27 under the theme: "Grasp the Vision, live the Mission – Expectant."
Sir Patrick noted that various youth organizations have had to curtail their activities due to financial constraints and the ability to attract suitable mentors.  With the social media revolution overtaking youth groups as a vehicle of socialization, The Governor General said that Jamaicans should support organizations which help to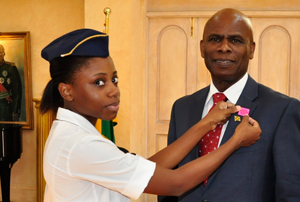 strengthen our communities and the nation as a whole.  "When we promote the increase in membership of the Girl's Brigade for example, we are ensuring that Jamaica is destined for a positive future," he stated.
Citing Jamaica's recent ranking as the country with the highest number of women managers per capita, Sir Patrick Allen said that Brigaders should believe that nothing can stop them from realizing their true potential and achieving their dreams. "Going forward I am confident and expectant that Brigaders will be in the vanguard as our nation strives to make Jamaica the place of choice in which to live, work, raise families and do business," he said.
The Girls' Brigade aims to raise two million dollars during its month long activities which include a National Service of Thanksgiving at the St. Paul's United Church on March 15 and the National Rally and Fellowship Day at the Oracabessa High School on March 28.