Christmas cheer came early to the Nursing Staff at the Bustamante Hospital for Children when they received gifts from Their Excellencies The Governor-General and the Most Honourable Lady Allen during a virtual presentation on Wednesday 8th December 2021.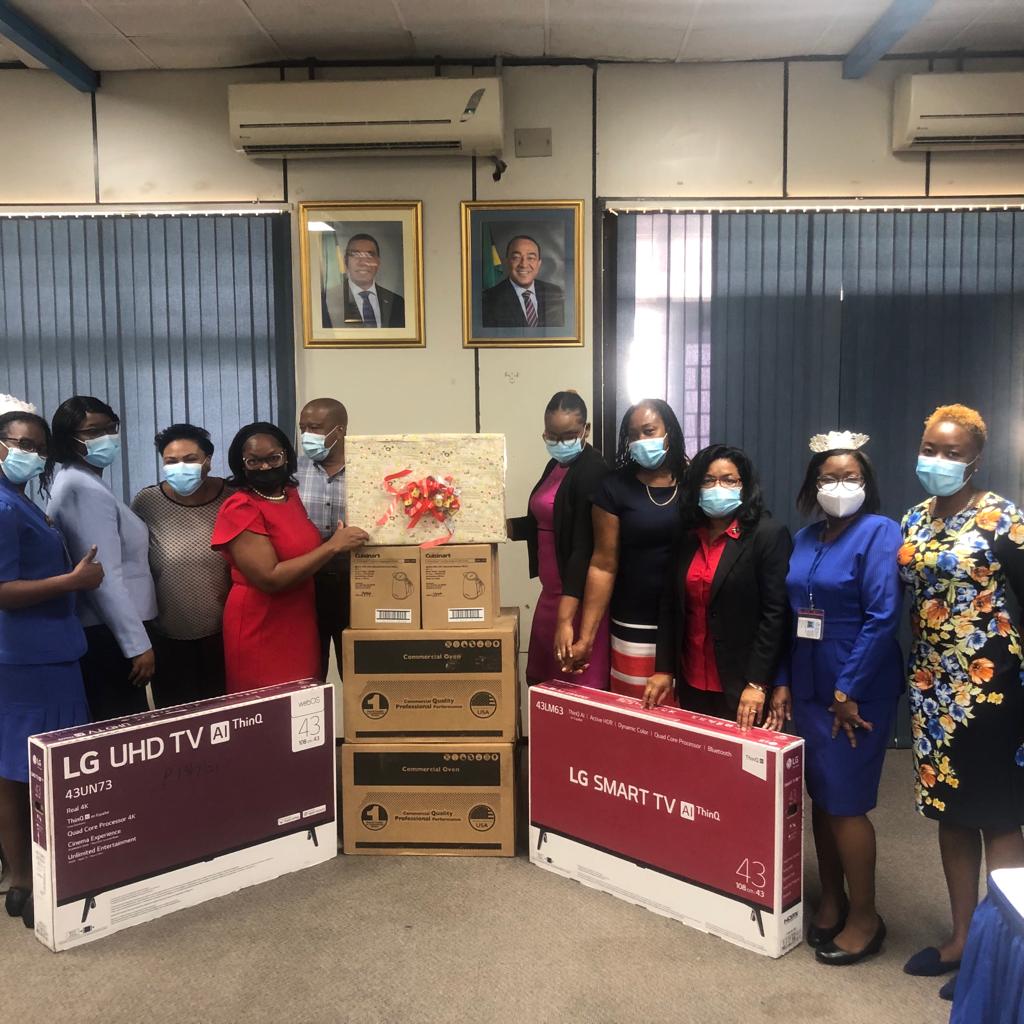 Nursing staff of the Bustamante Hospital for Children pose with gifts presented by Their Excellencies The Governor-General (right) and the Most Honourable Lady Allen on Wednesday (December 8).The gifts were a donation through the ISSA Trust Foundation.
Lady Allen observed that the COVID-19 environment has resulted in many changes and varying experiences.  She said frontline health workers have been particularly affected as they work long hours and make many sacrifices in order to ensure that their patients receive care.
Governor-General Sir Patrick Allen recalled the wonderful experiences he and Lady Allen have had over the years in their interaction with the staff and patients during their annual visit to the Hospital.  He noted that although a face-to-face visit could not take place this year, technology has made the presentation ceremony possible.
Sir Patrick applauded the staff for what he described as their 'tremendous work during the pandemic' and said he hoped the gifts would assist them to feel more comfortable at the workplace.  He encouraged the nursing staff to continue their good work, take the necessary precautions to keep safe, have a peaceful, enjoyable Christmas Season and a bright New Year.
The gifts comprised two 43-inch LED television sets, two television wall mount brackets, and two commercial microwave ovens.   The Issa  Trust Foundation, chaired by Paul Issa and  Executive Director,  Dianne Pollard, was instrumental in securing the gifts.
In response to the presentation, Director of Nursing Services, Beverley Senior Berry, thanked Sir Patrick and Lady Allen for the donation.
The virtual ceremony replaces Their Excellencies' annual Hospital Tour given the Covid-19 restrictions. Her Excellency the Most Honourable Lady Allen is Patron for the Friends of Bustamante Hospital (FBCH) which was established the same year as the Bustamante Hospital for Children.