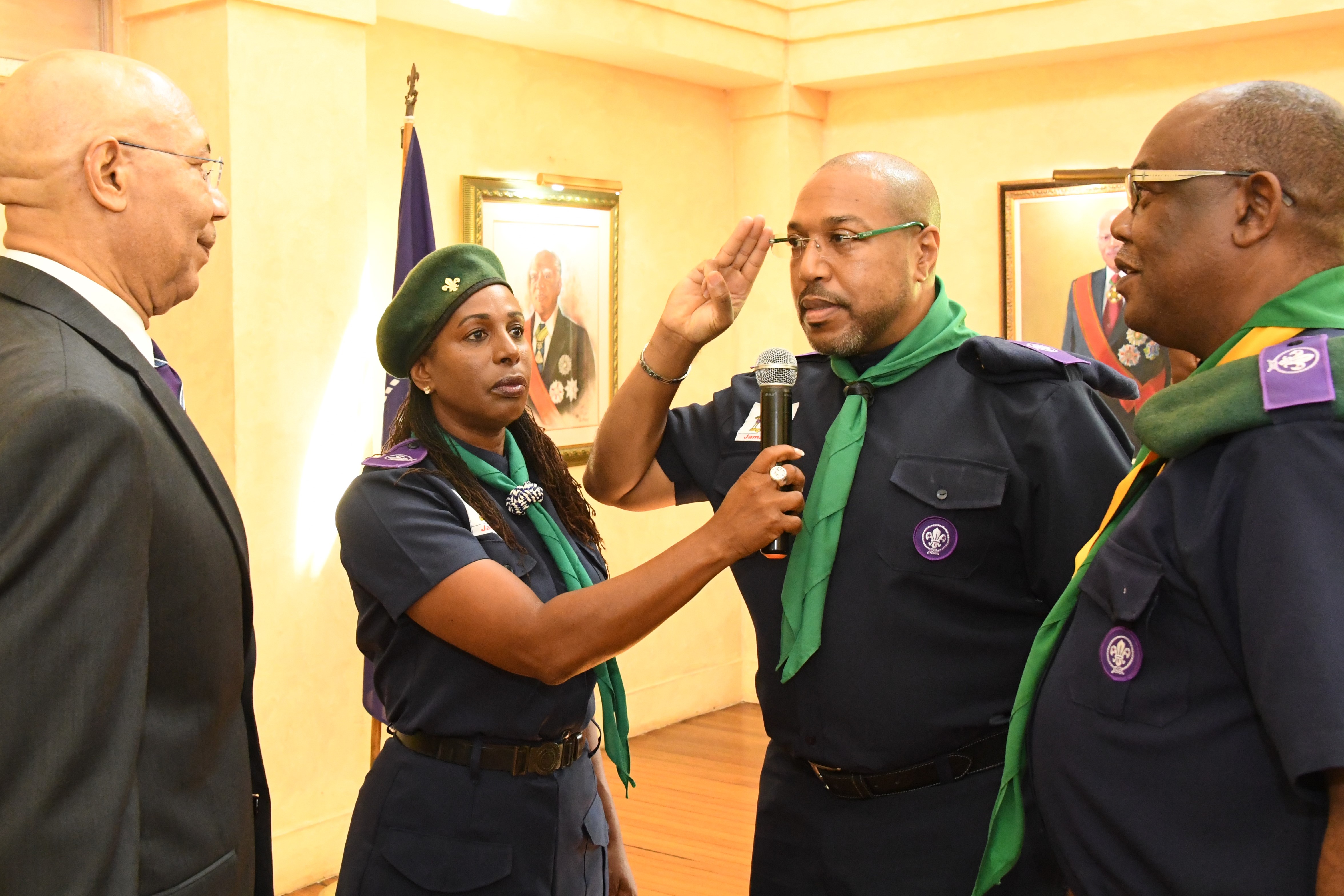 The Scout Association of Jamaica has a new President. He is businessman Mr. Richard Simpson of Wells and Services Limited who was recently commissioned by Governor-General Sir Patrick Allen at a Promise Renewal and Investiture Ceremony held at King's House. He succeeds the Hon. Oliver Jones who has stepped down from the position after serving for 27 years.
In welcoming the new President, The Governor-General said the mission of scouting is to contribute to the education of young people through a values based system. "Several individuals in public life today credit this movement as part of the reason for the career paths they have chosen and the successes they have had; for many others joining Scout kept them out of trouble and on the right side of the law," he said.
He said the keen attention which scouting gives to youth development speaks to its value and also reveals the importance with which it ought to be treated. As such, His Excellency encouraged the new President and the entire scouting leadership not to be daunted by the obstacles they face but to instead "use the Christian principles of the organisation to face them boldly."
Sir Patrick Allen also urged the Scout Association to maximize the benefits of communication technology in order that it can remain relevant to our tech-savvy youth. "This way you can connect with the young people who were born in the technological era who understand the tools they have available to them," he stated.
He also had words of gratitude for outgoing President the Hon. Oliver Jones whom he praised for his stellar service to the Scout Association. "We want to thank you Mr. Jones for the service you have given to the organization."
The ceremony concluded with the passing of the baton from the outgoing to the new President and a short acceptance speech by Mr. Simpson reaffirming his commitment to serve. He pledged to make the institution stronger and better than he found it and continuously relevant to Jamaica.
Mr. Simpson is a certified mediator and philanthropist who has worked closely with the Best Care Foundation, Jamaica Council for Persons with Disabilities among other charities.