After being in the academic wilderness for an entire year in 2018, twenty-three year-old Kinshasa Johnson was among three students awarded with The Governor-General's I Believe Initiative Summer of Service Scholarships to attend the Caribbean Maritime University (CMU).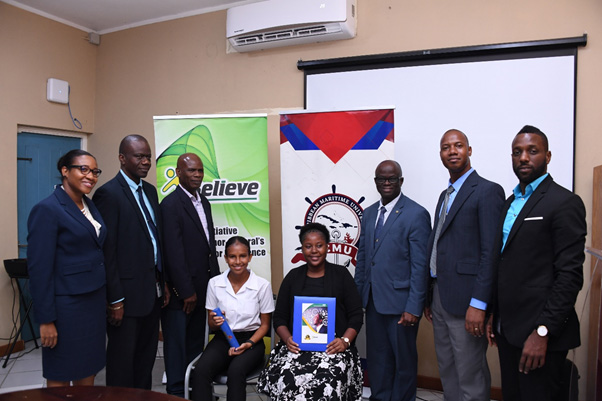 She was presented with a scholarship in the sum of over one million dollars ($J1, 000,000) to complete years two through to four of her Bachelor of Science Degree Programme in Logistics and Supply Chain Management.  The presentation was made in a small ceremony at the institution yesterday (September 11, 2019).
Kinshasa, who is the mother of a seven-year-old son, expressed gratitude to Her Excellency Lady Allen, wife of The Governor-General for the role she played in introducing her to the Programme, and praised His Excellency Sir Patrick Allen for providing her the opportunity to "dream big again". She said that "going to college is usually the milestone and turning point for many poor families, but being able to complete is always the challenging reality."
"Getting this opportunity will also help to equip me to council other youth on the difficulty of being a young mother and having to take care of my child while also having my own career aspirations and not seeing it in sight," Kinshasa added.
At Wednesday's presentation, Joelle Silvera also received two hundred thousand dollars (J$200,000) in tuition/grant support towards the first year of her Bachelor's Degree in Marine Transportation.
Meanwhile, National Coordinator for The Governor-General's Programme for Excellence, Ms. Sonja Simms, in her address, thanked the CMU for their continuous partnership with the Summer of Service programme, in providing scholarships for bright young people who would not have otherwise been able to attend college/universities. "This partnership is indeed part of what is right with Jamaica," she affirmed. She also elaborated that inextricably linked to the scholarship programme was the component for the recipients to volunteer and give service to their community.
"We will be monitoring you and ensuring that you uphold the academic ideals of the programme for which we have a responsibility to The Governor-General," Acting
President Professor Ibrahim Ajagunna charged the recipients. "The faculty and staff are here to make your academic journey rewarding," Professor Ajagunna added.
Dacia Bennett is the third student who was presented with her CMU/SOS Scholarship in the sum of two hundred thousand dollars, in the main SOS scholarship presentation ceremony at King's House on August 20, 2019.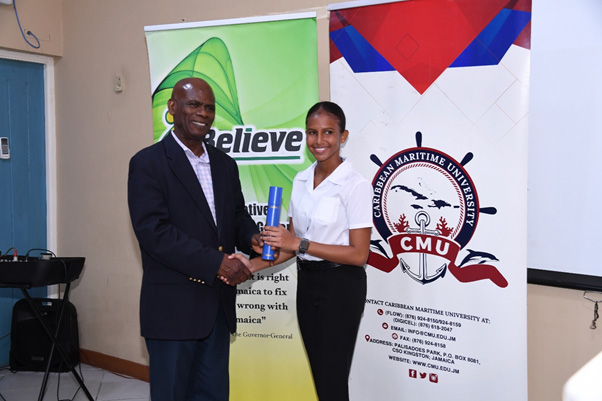 In attendance at the CMU/SOS presentation ceremony were Professor Noel Brown; Deputy Vice President CMU, Captain Johnny Pretell, Director of Marine and Nautical Studies, Dr. Richard "Charlie Chaplin" Bennett; Director of Student Affairs, Georgette Gayle; Programme Faculty of Advanced Skills and Professional Development CMU, Mr. Archibald Gordon; Director of Marketing CMU, Mr. Jullien Morgan; Acting Associate Vice President CMU and the Honourable Steadman Fuller, Custos Rotulorum for the Parish of Kingston who deputised for The Governor-General and made the presentation on his behalf.