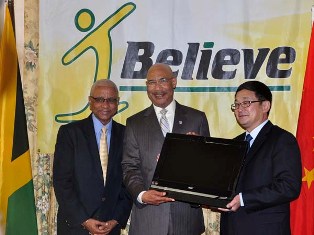 Governor-General Sir Patrick Allen has honoured yet another commitment to the three free I Believe Initiative Wifi-Centres, thanks to the Chinese Embassy's donation of ten Acer computers to the values-based programme.  Ambassador Zheng Qingdian made the presentation during a brief ceremony at King's House August 2, 2013.  The computers were later handed over to representatives from the WiFi-centres located in Spring Village (St. Catherine), Petersfield (Westmoreland) and Albert Town (Trelawny).
In expressing his appreciation, the Governor-General thanked the Ambassador for the "gracious gift" in fulfillment of "his commitment and pledge to make some computers available to the I Believe Initiative." Sir Patrick stressed the need to increase access to information technology to residents, especially youth, in rural communities. The donation of these computers would therefore enhance the IBI's projects in this regard.   The Governor-General read letters he was sending to the communities, reaffirming his commitment to support model communities that worked tirelessly to remedy their development problems. He also urged the residents to treasure the computers so they could serve them for as long as possible. The Governor-General also thanked Mr. Errol Miller for LIME's partnership in the IBI free WiFi project.
Mr. Randy Finnikin, Executive Director of the Spring Village Development Foundation accepted five of the ten computers on behalf of the wifi-centre in Spring Village. Responding on behalf of all three recipients, Mr. Finnikin thanked the Governor-General and Ambassador Zheng for their contributions to the centres.   "We are encouraged by your continued support Your Excellency Sir Patrick Allen. We are ever so thankful for IBI standing with us on the ground as we build stronger and more resilient communities," said Mr. Finnikin.
The Association of Clubs received three of the computers for the Petersfield wifi-centre and the Lay Magistrates Association (Trelawny Chapter), which manages the Albert Town wifi-centre, will receive two computers. The wifi-centres were established through a partnership between the IBI and telecommunications company, LIME.