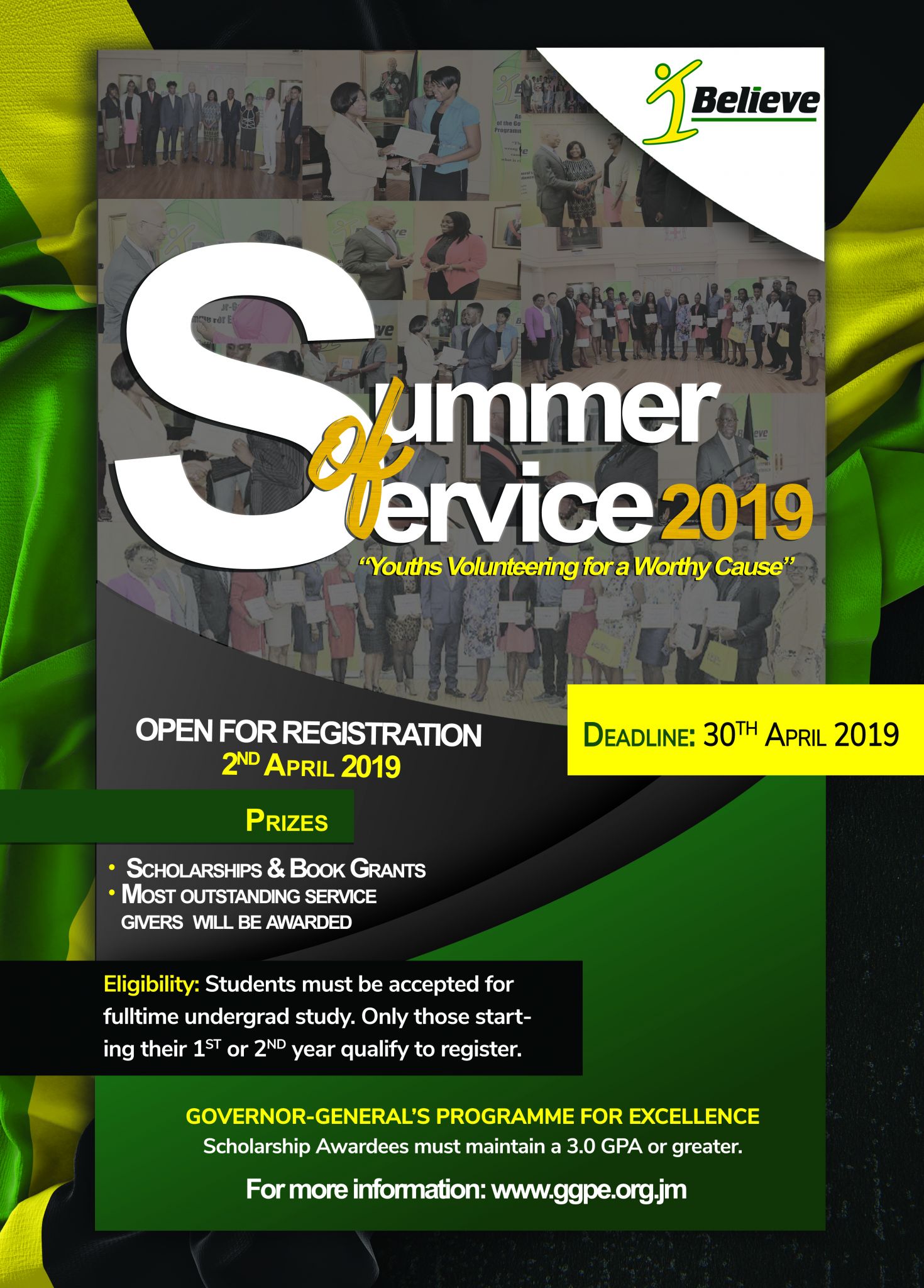 The 2019 I Believe Initiative's Summer of Service (SOS) Programme is open for registration. During the period April 2 to 30, 2019 exceptional students with dire financial need who are matriculating to colleges and/or universities for their 1st year of undergraduate study and those currently completing their 1st year to begin their 2nd in 2019, are invited to register.
The Summer of Service (SOS) Programme is one of the best known projects of the I Believe Initiative (IBI). It was conceptualized, developed and first executed in 2013. Its main objective is to get more young people to give voluntary service to a worthy cause. Students who perform exceptionally well and are deemed to be most impactful in their service to others, have the opportunity of being awarded a scholarship.
REGISTRATION: The SOS Programme Registration Form, along with more details regarding participation, are accessible via our website: www.ggpe.org.jm  . As part of the registration process, students must identify an established organization (governmental, non-governmental, religious and service clubs, etc.) where they will give voluntary service to a 'worthy cause'. Students may also create their own projects. All projects and the places where voluntary service will be carried out, must be approved by the IBI Secretariat. A proposal for 'own project' must be submitted by April 30th for assessment.
PARTNERSHIPS: The Summer of Service Programme is highly dependent on partnerships for its execution and to achieve its objectives. Corporate Jamaica, Schools and benevolent individuals are the main benefactors of the scholarships and grants awarded through the programme each year. Once an entity or individual partners with the IBI, the positive message is sent in all promotional efforts that they are collaborating with the Governor-General in reaching out to youth to help direct them to a brighter future as well as to help build this nation.
The I Believe Initiative (IBI) is an arm of the Governor-General's Programme for Excellence.