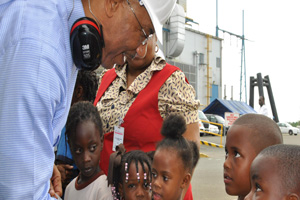 Governor-General Sir Patrick Allen has said that it was important for companies to invest in their communities as this was critical to nation-building. The Governor-General made this observation during his recent visit to the Jamaica Energy Partners (JEP) Doctor Bird Power Station, in Old Harbour, St Catherine. Sir Patrick was on his Jamaica 50 Island Tour.
Established in 1995, JEP is the largest independent private power provider, and produces approximately 20 percent of the electrical energy on the Island's power grind. The Company believes in of giving back to the communities in which they operate and making an impact on communities by supporting causes that are important in building a solid future.
Sir Patrick commended the work the Company is doing and noted their sense of responsibility, commitment and purpose in what they do, adding that, "…this is a significant part in the hub of our development'. Sir Patrick commended them for the impact they are having on the community. He stated that they had grasped the vision that the development of the nation was dependent on the community.
The JEP has placed special emphasis on education and health, entrepreneurship, sports and environmental initiatives. As part of their corporate social objective, they have adopted the Blackwood Gardens Basic School since 2002 as part of their initiative to focus on early childhood education. They provide a yearly contribution of school supplies, monetary assistance and other resources. Additionally, they encourage their employees to donate their time to staff members, parents and students at the school.
JEP provides two (2) scholarships annually to students from the parish of St. Catherine. In addition, they make contributions to various schools and individuals including Giblatore Primary School, Old Harbour Primary School and The Professional Development Institute and Girls' Town. They have been sponsoring the Literacy Programme in Old Harbour Bay since 2003. Graduates of the literacy programme have received temporary employment with the company where they provide skilled and unskilled labour.
The success of their corporate objective has been achieved through partnerships with community personnel as well as through local and national stakeholders. Some of their partners are the University of the West Indies, the University of Technology, Caribbean Maritime Institute and the Social Development Commission.
In 2008, JEP partnered with the Spring Village Foundation, a branch of the HEART training facility where welding and electrical installation skills are taught. The trainees from that institution get an apprenticeship at the Doctor Bird Power Station. The internships and scholarships have enabled individuals to expand their horizons and give back to the communities as some of the recipients in turn work or volunteer in the communities.