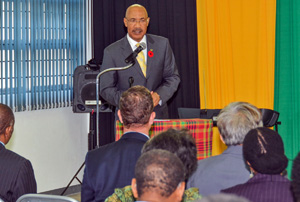 Justices of the Peace (JPs) should see themselves as more than authenticators of documents, but as agents of peace, Governor-General, His Excellency the Most Hon. Sir Patrick Allen has said.
"Being a JP is more than the authentication of documents and ceremonial activities…being a JP cannot be coveted as a mere status symbol," he said, while addressing a group of Kingston JPs during his tour of sections of the city on October 31, which ended at the Kingston Book Shop.
The Governor-General noted that in the society, "where civility is being eroded, where dialogue too often leads to altercations and even deadly violence, JPs have got to see yourselves as agents of peace. This requires being more involved in your communities, winning the trust of the people, so that they will communicate with you."
He pointed out that JPs can support the cause of peace and justice in communities by mentoring young people, especially the at-risk youth, working to prevent recidivism and visiting lock-ups and prisons, among other things.
"Is there a role for the JP in dispute resolution, especially within families? I firmly believe there is. Is there a role for the JP in efforts to restore peace and love in schools, in building self esteem and self-confidence among young people of your communities, fearlessly promoting positive values and attitudes? I firmly believe there is," he said.
"I also am convinced that you have a role in the socialisation of our communities to promote the protection of our children, boys as well as girls, from all forms of abuse. You must be part of the determined action, which Jamaica has to take to stem the wave of abuse and vicious attacks against women," he added.
The Kingston tour was the culmination of the Governor-General's series of parish tours as part of Jamaica 50 celebrations. He also visited the Windward Road Primary and Junior High School and Caribbean Maritime Institute where he addressed teachers and students.
The Governor-General also visited Port Royal, where he toured Fort Charles and the Coast Guard Station; and had a conversation with business leaders at the Gleaner Company.