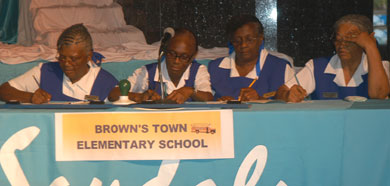 Governor-General, His Excellency the Most Hon. Sir Patrick Allen is encouraging senior citizens to let their lives be an inspiration to the young people of the nation.
"Our young people need to be motivated to take education more seriously and I believe that you are suitably placed to mentor them on these issues. You can serve as an inspiration to them and encourage them to pursue academic and technical vocational excellence in a variety of areas," he said.
The Governor-General was speaking at the inaugural St. Ann Seniors Challenge Quiz, which was held at the Sandals Dunn's River Resort and Spa, in Mammee Bay, Ocho Rios.
Held in collaboration with the Sandals Resorts, the quiz saw two teams from the parish competing in the study areas of Arithmetic, English Language, History, Geography, Scripture and General Knowledge.
"I believe that you can mentor and motivate our youth in ways that can have significant impact on them. You are a living testimony to them, that although back in the days, as we like to term it, you never had as many opportunities as students have today, yet you were eager to get as much knowledge and information as you could," the Governor-General said.
He said he was confident that the life experiences of the seniors could help young people come to terms with the reality that education is the key to future successes.
The Governor-General commended the effort of those who participated in the competition, pointing out that it was a demonstration to young people and other seniors who might be of the belief that education was irrelevant at a certain point in their lives.
"I believe that you can and will be an inspiration to many young people who cannot be bothered with the discipline and the rigours of obtaining an education or engaging in lifelong learning," he said.
Meanwhile, Captain of the winning team, Dorrett Thomas, told JIS News that she was happy that her team won the challenge.
"We have put some real hard work in this and I know that all the members are very proud. We worked very hard and we know that our hard work would have paid off, so we were anticipating the fact that we, the members of the Brown's Town Elementary School Team, would be the winners of the competition," Mrs. Thomas said.
Captain of the runner-up team, June Stennett, said even though they were awarded second place in the competition, the experience was good and it meant a lot to her and her teammates.
"This competition is going to help us to project the St. Ann Senior Citizens Association to other seniors and to let them know that you do not have to sit at home and wither and die, but you can keep on fighting, because perseverance is the name of the game," Mrs. Stennett told JIS News.